Psychodynamic Coaching: Focus and Depth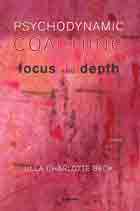 Book Details
Publisher : Routledge
Published : 2012
Cover : Paperback
Pages : 192
Category :
Coaching
Catalogue No : 30725
ISBN 13 : 9781855757677
ISBN 10 : 1855757672
In a postmodern age we all need a room of our own. A room – or space – where we can explore and reflect on how the rapidly changing world affects us. A room where it is possible to get a feeling of who we are, and wish to be, in the middle of the buzz of our everyday lives. Where it is possible to explore our challenges and possibilities and thus become a more robust human being. Where we can think of our relationships and interactions. Where we can have a break and some relief and where we can summon the energy to act – or not to act – in our lives.
Coaching is way of providing the space for such thoughts, reflections, and insights into our possibilities. Most of the different coaching methods do not adhere to a specific psychological theory. However, in this book you will meet a coaching method that is based on a specific theory - psychodynamics. The main idea is to work with the coached person's past, present, and future in order to open up for a more integrated and fulfilling life.
Reviews and Endorsements
'This is an outstanding book written by someone who is an acknowledged leader in the field. Ulla Beck uses her extensive knowledge and experience to craft a volume that, from theory to practice and through to helpful and detailed examples, provides the reader with a great clarity of understanding of the process of psychodynamic coaching; and of the issues that arise in regard to coaching in general. It will be required reading and an essential reference point for all engaged in the extensive field of coaching; be they managers, prospective clients, or practising coaches.'
- Lionel Stapley, PhD, organizational consultant and Director of OPUS

About the Author(s)
Ulla Charlotte Beck is a psychoanalytic group analyst, who has worked in organizational psychology for many years. She runs an independent consultancy company and is a lecturer and consultant. She is author, or coauthor, of several articles and books on organizational psychology.
You may also like