Book Details
Publisher : Routledge
Published : January 2007
Cover : Paperback
Category :
Psychoanalysis
Catalogue No : 25353
ISBN 13 : 9780415428170
ISBN 10 : 0415428173
Also by Andrea Sabbadini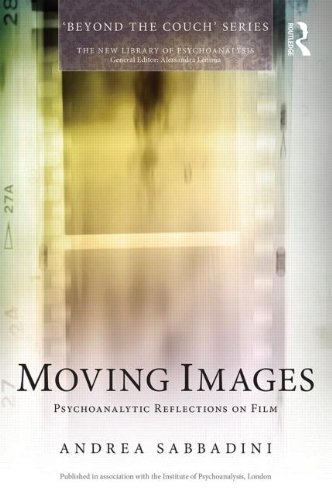 Projected Shadows presents a new collection of essays exploring films from a psychoanalytic perspective, focussing specifically on the representation of loss in European cinema. This theme is discussed in its many aspects, including: loss of hope and innocence, of youth, of consciousness, of freedom and loss through death. Many other themes familiar to psychoanalytic discourse are explored in the process, such as: establishment and resolution of Oedipal conflicts; representation of pathological characters on the screen; use of unconscious defence mechanisms; and, the interplay of dreams, reality and fantasy. "Projected Shadows" aims to deepen the ongoing constructive dialogue between psychoanalysis and film. Andrea Sabbadini has assembled a remarkable number of internationally renowned contributors, both academic film scholars and psychoanalysts from a variety of cultural backgrounds, who use an array of contemporary methodologies to apply psychoanalytic thinking to film. This original collection will appeal to anyone passionate about film, as well as professionals, academics and students interested in the relationship between psychoanalysis and the arts.
Reviews and Endorsements
Table of Contents

Gabbard, Foreword. Sabbadini, Introduction. Kline, The night of melancholia and the daylight of mourning: Anne Fontaine's Comment j'ai tué mon père. Goisis, Quest for a lost mother: Alina Marazzi's Un'ora sola ti vorrei. Wigoder & Berman, Is there light at the end of the tunnel? Keren Yedaya's Or (Mon Tresor). Costantini & Golinelli, The anorexic paradox: Matteo Garrone's First Love. Zwiebel, Reparation and the empathic other: Christian Petzold's Wolfsburg. Sabbadini, The talking cure from Freud to Almodóvar: Hable con ella. Portuges, Intergenerational transmission: The Holocaust in Central European cinema. Webber, Cut and laced: traumatism and fetishism in Luis Buñuel's Un chien andalou. Taylor Robinson, Two short films by Jan Svankmajer: Jabberwocky and Punch and Judy. Mulvey, Compilation film as 'deferred action': Vincent Monnikendam's Mother Dao, the Turtle-like. Weinstein, Moving beyond the constraints of the mortal self: universal images of narcissism in Jan Troell's The Flight of the Eagle. Stein, Tricycles, bicycles, life cycles: psychoanalytic perspectives on childhood loss and transgenerational parenting in Sylvain Chômet's Belleville Rendez-Vous. Diamond, Loss, mourning and desire in midlife: François Ozon's Under the Sand and Swimming Pool. Sabbadini, Three sisters: sibling knots in Bergman's Cries and Whispers. Christie, Time regained: the complex magic of reverse motion.

About the Author
Andrea Sabbadini is a Fellow of the Institute of Psychoanalysis and honorary senior lecturer at University College London. He has published extensively in psychoanalytic journals, and edited books including "Even Paranoids Have Enemies" (Routledge, 1998) and "The Couch and the Silver Screen: Psychoanalytic Reflections on European Cinema" (Brunner-Routledge, 2003).
About the Editor(s)
Andrea Sabbadini, CPsychol, is a Fellow of the British Psychoanalytical Society and its Director of Publications. He works in private practice in London, is a Senior Lecturer at UCL, a trustee of the Freud Museum, the director of the European Psychoanalytic Film Festival, and the chairman of a programme of films and discussions at the Institute of Contemporary Arts (ICA). He is also the founder editor of Psychoanalysis and History and the Film Section editor of The International Journal of Psychoanalysis. He has edited books on time, on paranoia and on cinema, and is the author of Moving Images (Routledge), forthcoming in 2014.
You may also like