Moving Images: Psychoanalytic Reflections on Film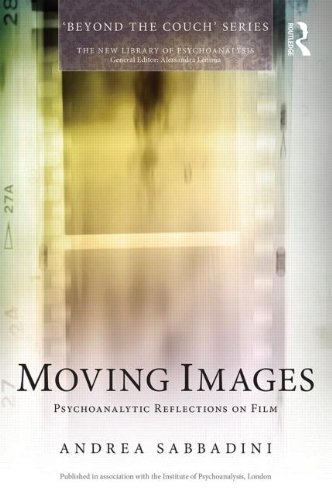 Also by Andrea Sabbadini
The experience of watching films - entertaining, moving, instructive, frightening or exciting as they may be - can be enriched by the opportunity to reflect upon them from unconventional perspectives. Moving Images: Psychoanalytic Reflections on Film offers its readers in an accessible language one such viewpoint, informed by Andrea Sabbadini's psychoanalytic insights and therapeutic experience. Using a psychoanalytic interpretative approach, some twenty-five important feature films are discussed as the artistic vehicles of new, unsuspected meanings.
The first chapter looks at films which represent psychoanalytic work itself, having therapists and their patients as their main characters. The remaining five chapters cover movies on themes of central concern to analytic theorists and clinicians, such as childhood and adolescent development, and varieties of intimate relationships among adults. The latter include romantic love and its disturbing association to death fantasies; eroticism and prostitution; and voyeuristic desire - a significant phenomenon in this context given its parallels with the activity of watching films.
Andrea Sabbadini's psychoanalytic approach, which explores the part played by unconscious factors in shaping the personality and behaviour of film characters, is used to interpret their internal world and the emotional conflicts engendered by the vicissitudes they live through. The book is completed by a filmography and biographical notes on film directors.
Moving Images: Psychoanalytic Reflections on Film presents the relationship between cinema and psychoanalysis as a complex one. These two most different of cultural phenomena are shown to share a wish on the part of their practitioners to uncover profound truths about the human condition, and to provide a language with which to describe them. Going beyond futile 'psycho-historical' attempts to analyse filmmakers through their products, or a superficial application of psychoanalytic concepts to film, Sabbadini shows how both cinema and psychoanalysis can benefit from a meaningful interdisciplinary dialogue between them. The book will be of special interest to practicing psychoanalysts and students, scholars and historians of film studies.
About the Author(s)
Andrea Sabbadini, CPsychol, is a Fellow of the British Psychoanalytical Society and its Director of Publications. He works in private practice in London, is a Senior Lecturer at UCL, a trustee of the Freud Museum, the director of the European Psychoanalytic Film Festival, and the chairman of a programme of films and discussions at the Institute of Contemporary Arts (ICA). He is also the founder editor of Psychoanalysis and History and the Film Section editor of The International Journal of Psychoanalysis. He has edited books on time, on paranoia and on cinema, and is the author of Moving Images (Routledge), forthcoming in 2014.
You may also like