Preventing and Healing Climate Traumas: A Guide to Building Resilience and Hope in Communities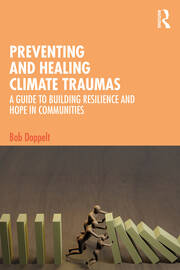 Book Details
Publisher : Routledge
Published : March 2023
Cover : Paperback
Pages : 256
Category :
Trauma and Violence
Catalogue No : 97088
ISBN 13 : 9781032200200
ISBN 10 : 9781032200
Using extensive research, interviews with program leaders, and examples, Preventing and Healing Climate Traumas is a step-by-step guide for organizing community-based, culturally tailored, population-level mental wellness and resilience-building initiatives to prevent and heal individual and collective climate traumas.
This book describes how to use a public health approach to build universal capacity for mental wellness and transformational resilience by engaging community members in building robust social support networks, making a just transition by regenerating local physical/built, economic, and ecological systems, learning how trauma and toxic stress can affect their body, mind, and emotions as well as age and culturally tailored mental wellness and resilience skills, and organizing group and community-minded events that help residents heal their traumas. These actions build community cohesion and efficacy as residents also engage in solutions to the climate emergency.
This book is essential reading for grassroots, civic, non-profit, private, and public sector mental health, human services, disaster management, climate, faith, education, and other professionals, as well as members of the public concerned about these issues. Readers will come away from this book with practical methods—based on real-world examples—that they can use to organize and facilitate community-based initiatives that prevent and heal mental health and psycho-social-spiritual problems and reduce contributions to the climate crisis.
Reviews and Endorsements
"The health of our planet is inherently connected to our well-being. Preventing climate trauma and supporting holistic healing and resilience in the ways that our diverse communities interact with the stresses of climate change is quickly becoming one of the biggest challenges of our generation. Bob Doppelt's new book offers an essential blueprint towards building a healthier future in the places where we live." - Antonis Kousoulis, director for England and Wales, Mental Health Foundation, UK.

"The world is beginning to experience an epidemic of climate change-related mental and emotional distress that, regrettably, is likely to become a pandemic. Developing community-based approaches to promoting mental and emotional resilience in the face of climate change is one of humanity's most pressing imperatives. In this book, one of the world's leading experts, Bob Doppelt, shares his deep insights into how we rise to this challenge." - Edward Maibach, MPH, PhD, Distinguished University Professor and director of the George Mason University Center for Climate Change Communication.

"I strongly encourage everyone to read this wonderful book because it emphasizes the importance and the magic of community work. It is about time we evolve from individualistic models of mental health care that focus on what is wrong with a person. The teachings this book provides will help us, our loved ones, and our communities face the climate change mental health crises successfully in a just and equitable way." - Carissa Cabán-Alemán, MD, associate professor, Herbert Wertheim College of Medicine, Florida International University, and member of the Climate Psychiatry Alliance.

"This is the book we've been waiting for. Frankly setting out the frightening and challenging effects of climate change, Bob Doppelt's book also gives us hope that by coming together as communities, we can help ourselves mitigate some of the worst impacts on our own lives and the lives of our families and our neighbours. This is an essential read for policy makers, practitioners, and community organisations." - Fiona Garven, director of the Scottish Community Development Centre, Glasgow, Scotland.

"The obvious consequences of climate change—extreme weather events, droughts, floods—sit among the clearer results of manmade global warming. This important new book from Bob Doppelt helps us mitigate the often invisible outcomes of global warming, including anxiety, depression, PTSD, and trauma. Drawing on psychology, spirituality, and bottom up, community-based resilience practices, this monograph can help us build the capacity to manage mental wellness, recover from current and forthcoming shocks, and ensure equitable outcomes." - Daniel P. Aldrich, director of the Security and Resilience Studies Program at Northeastern University, and author of Building Resilience and Black Wave
About the Author(s)
Bob Doppelt coordinates the International Transformational Resilience Coalition (ITRC), a global network working to prevent and heal the mental health and psycho-social-spiritual problems generated by the climate emergency.
You may also like