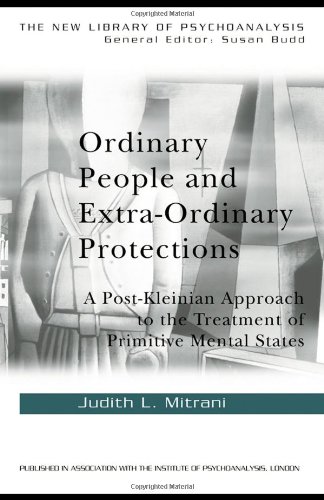 Book Details
Publisher : Routledge
Published : January 2001
Cover : Paperback
Category :
Psychoanalysis
Catalogue No : 11645
ISBN 13 : 9780415241656
ISBN 10 : 0415241650
Also by Judith L. Mitrani
This text investigates the development and function of "extra-ordinary protections", created to keep at bay any awareness of deeply traumatic happenings occurring at some point in life. The study weaves detailed clinical observations with a variety of analytical concepts.
Many people come to analysis appearing quite "ordinary" on the surface. However, once below that surface, we often come into contact with something quite unexpected: "extra-ordinary protections" created to keep at bay any awareness of deeply traumatic happenings occurring at some point in life.
Judith Mitrani investigates the development and the function of these protections, allowing the reader to witness the evolution of the process of transformation, wherein defensiveness steadily mutates into communication. She lucidly and artfully weaves detailed clinical cases with a variety of analytic concepts, and her original notions - including "unmentalized experience" and its expression in enactments; "adhesive pseudo-object relations" and the way in which this contracts and compares with normal and narcissistic object relations - provide valuable tools for understanding the infantile transference/countertransference and for the refinement of our technique with primitive mental states.
Ordinary People and Extra-Ordinary Protections will prove stimulating and accessible in its style and substance to a broad analytic readership, from the serious student of psychoanalysis to the most seasoned professional.
Reviews and Endorsements
'Judith Mitrani's latest work beautifully illuminates some incompletely explored areas of psychoanalytic thinking... Throughout this work we become impressed with the presence of a versatile and innovative observer, thinker, clinician, and integrator with an unusual range of knowledge. Dr Mitrani's is a new, valuable, and most welcome voice in psychoanalysis.'
- James S. Grotstein, North American Vice President, International Psychoanalytical Association
About the Author(s)
Dr Judith Mitrani trained as a clinical psychologist and a psychoanalyst in Los Angeles. In her private practice, she specializes in both the treatment and supervision of psychoanalysis and psychoanalytic psychotherapy with adults and children.
You may also like