On Paedophilia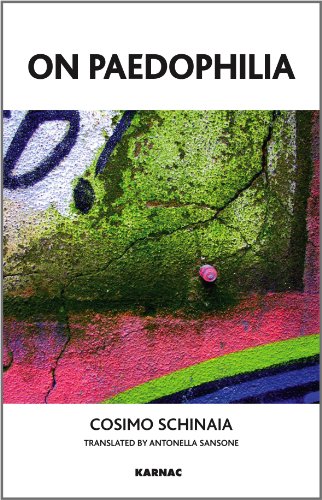 Book Details
Publisher : Routledge
Published : 2010
Cover : Paperback
Pages : 352
Category :
Psychoanalysis
Category 2 :
Trauma and Violence
Catalogue No : 26227
ISBN 13 : 9781855755895
ISBN 10 : 1855755890
Also by Antonella Sansone

Also by Cosimo Schinaia
A topical and complete examination of the phenomena of paedophilia starting with a historical overview and then proceeding to a psychoanalytic examination of its structure and treatment. Contents include: Social and cultural aspects fostering paedophilic behaviour; Myth and paedophilia, Paedophilic fairy tales and fables; The pederast relationship in Classical Greece; Paedophilia in the Middle Ages, Paedophilia in medical and psychiatric thought, Psychoanalysis and paedophilia; Contributions to the definition and typology of paedophilic personalities and behaviours through fiction; The paedophilic relationship; A case of paedophilic perversion; A case of paedophilic perversity; The work group.
Reviews and Endorsements
'The report of a paedophilic act may arouse at a conscious level profound pity for the victim, and disgust and violent retaliatory wishes toward the often demonised perpetrator. At a deeper, perhaps preconscious level, there may be a pang of guilt about the failure to protect the sexually vulnerable and immature child from the sexually mature adult. At an even deeper, unconscious level, there may be a hint of primal terror in response to the breach of a timeless foundation of society, namely the maintenance of the sexual boundary between the generations. The paedophilic act is difficult to think about because it disturbs our normal orientation to reality. It is not uncommon for us to defend against these strong, disturbing feelings and fantasies at a conscious, preconscious, and unconscious level by projection, denial and repression. Even psychoanalysts, with our special interest in the unconscious, have written relatively little about paedophilia.

Cosimo Schinaia's book On Paedophilia is an exception. It is an impressive, scholarly, and much needed addition to psychoanalytic literature on this neglected subject. In his Introduction, Schinaia responds to the meagre psychoanalytic bibliography on paedophilia by asking: "why have psychoanalysts not been interested in the issue of paedophilia, and specifically in the psychopathology of the paedophile"? He not only proceeds to address that question, but through the eleven chapters of his book Dr Schinaia and his colleagues proceed to deepen and broaden our knowledge of the psychopathology of the paedophile.'
- Donald Campbell, child, adolescent and adult psychoanalyst working in the National Health Service and in private practice. He served as Chairman of the Portman Clinic and is past President of the British Psycho-Analytical Society.
About the Author(s)
Cosimo Schinaia is a psychiatrist who worked as Director of Mental Health Centre of Central Genoa for many years. He is a training and supervising psychoanalyst of SPI (Italian Psychoanalytical Society) and a full member of the International Psychoanalytical Association. He has published many scientific papers for both Italian and international journals and books, including Dal Manicomio alla Città; Il Cantiere delle Idee; and Pedofilia Pedofilie: La Psicoanalisi e il Mondo del Pedofilo. He currently lives and works in private practice in Genoa.
More titles by Cosimo Schinaia
Antonella Sansone is a research/clinical psychologist particularly imterested in pre- and post-natal life. She is a yoga practitioner and this reflects her belief in the importance of the mind and body unity and balance as a foundation of health. As a baby massage teacher she believes that mindful massage for infants has the potential to regulate the mother-baby psychobiological rhythms and thus be a vital part of the bonding process and a reassuring extension of the womb experience.
You may also like