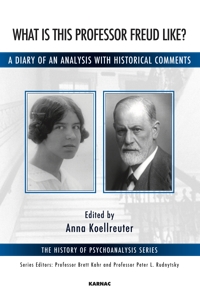 Book Details
Publisher : Routledge
Published : December 2016
Cover : Paperback
Pages : 144
Category :
Psychoanalysis
Catalogue No : 38065
ISBN 13 : 9781782204145
ISBN 10 : 1782204148
In 1921, a young female doctor started analysis with Sigmund Freud. In a diary, she recorded what moved her. The present volume not only contains a full translation of these records, but also collects four essays by two psychoanalysts and two analytical historians who take their cue from the young doctor's notes to think about Freud and his methods.
The discovery of the diary marks a small sensation for the history of social science. Three factors make the document unique: first, it records not a training analysis, but the analysis of an actual patient, second, the analysis took place before Freud fell ill with cancer, and third, the analysand obviously noted down what was said in the practice word by word. As Ernst Falzeder notes,"no other account published to date meets all three of these conditions".
With contributions by Anna Koellreuter, Karl Fallend, Ernst Falzeder and André Haynal.
Reviews and Endorsements
'In 1921 a young female psychiatrist, Anna G, had the insight and courage to take her problems from Zurich to Vienna for intensive psychoanalytic help. She asked Freud to be her analyst and he agreed to help her with her difficulties and simultaneously to train her as a psychoanalyst. The hard work demanded of both of them by this daily treatment showed that the respect for each should have been, and was, mutual. Anna Koellreuter deserves the same respect for the insight, courage and care with which she has edited, commented on, and published her grandmother's diary. It is a document which, though as difficult as it is fascinating, can give any reader a much-needed understanding of the importance of psychoanalysis.'
— Juliet Mitchell, Professorial Research Fellow, University College, London; Professor Emeritus, University of Cambridge

'This remarkable diary of the analysis of Anna G with Freud in the spring of 1921 is unusual for two reasons. First, it is a lively document about Freud's style before his oral cancer, which made talking difficult and painful for him and most likely influenced the manner and frequency of his interventions. Second, it reports on what might be called a regular or personal analysis rather than a training analysis like those of other published diaries during analysis with Freud. The commentaries aptly place the diary in its historical context and shed light on Freud's technique and on Anna G's feeling understood, despite the fact that modern techniques differ extensively from the one described here. It should be read by all students of psychoanalysis.'
— Christian Maetzener, MD, training and supervising analyst, the New York Psychoanalytic Society & Institute

'Anna Koellreuter paints a moving portrait of a beloved grandmother and of Freud as her consummate analyst. This is a fascinating and precious addition to the library of memoirs left by former patients of Freud. We observe Freud's style of analysing and follow the spirited interchanges between doctor and patient. The story and the commentaries by Koellreuter, Fallend, Falzeder, and Haynal will be a source of inspiration and learning for psychotherapists of today.'
— Henry Zvi Lothane, Clinical Professor of Psychiatry, Icahn School of Medicine at Mount Sinai, New York
About the Editor(s)
Anna Koellreuter, PhD, is a psychoanalyst and clinical psychologist, and a member of the Psychoanalytic Seminar in Zurich. Her publications are on the analysis of women by women, on the female analyst in the analytic process, and on the dynamics of drives in analysis. Her latest book is The Taboo of Desire: On the Volatility of the Sexual in the Theory and Practice of Feminist Psychoanalysis. She currently lives and works in Zürich, Switzerland.
You may also like