Also by Charlotte Burck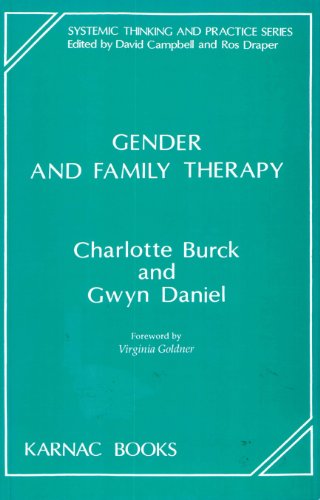 Also by Gwyn Daniel

In this volume, as the title indicates, the focus is on understanding and elaborating what might be said to be "going on" in supervision as well as further exploring what is distinctive about systemic supervision. Looking at processes within systemic supervision involves engaging with the different contexts within which the supervision takes place and engaging with a range of theories - some developed or applied within therapeutic contexts and others drawn from theories of learning.
Various theoretical frameworks have emerged and been described as underpinnings for systemic supervision. Social constructionist and narrative ideas have been vital in the creation of supervisory practices that promote open dialogues, multiple perspectives and the interrogation of traditional assumptions about expertise and hierarchy. This has inevitably led to a discussion of tensions and contradictions: unease about implicit practices of power, the problematics of assessment and evaluation and issues concerning the allocation of clinical responsibility. Positioning theory, dialogic theories and ideas from the field of adult education have also contributed helpful theoretical concepts for use by systemic supervisors.
This book takes many of these ideas further as they are grappled with, critiqued and operationalised in different settings - within agencies and training institutes.
Reviews and Endorsements
Contributors
Angela Abeda, Yvonne Ayo, Sara Barratt, Mojca Berelj-Kobe, Paolo Bertrando, Sharon Bond, Paula Boston, Elizabeth Boyd, John Burnham, Claudia Camhi, Grania Clarke, Sumita Dutta, Maria Eyres, Gabriella Gilli, Julia Granville, Anto Ingrassia, Guy Larrington, Sarah Majid, Reena Nath, Karen Partridge, Clarissa Sammut Scerri, Dave Spellman, Dubravka Trampuz, Gerrilyn Smith, Andrew Williams, Jeanne Zyminski.
About the Editor(s)
Charlotte Burck is a Consultant Systemic Psychotherapist, Trainer and Researcher in the Child and Family Department of the Tavistock Clinic, London. Her books include Gender and Family Therapy (with Gwyn Daniel), Gender, Power and Relationships (with Bebe Speed)), Mirrors and Reflections: Processes of Systemic Supervision (edited with Gwyn Daniel) and Multilingual Living: Explorations of Language and Subjectivity. Her interests include supervision and consultation, systemic research, and developing clinical work with families who have experienced domestic violence and enduring parental conflict.
More titles by Charlotte Burck
Gwyn Daniel is a systemic psychotherapist and trainer at the Tavistock Clinic who has experience of working in both children's services and in adult mental health. She has run workshops on this topic in London, Oxford, Belfast and Sydney. She is co-author of Gender and Family Therapy (with Charlotte Burck), Growing Up in Stepfamilies (with Gill Gorell Barnes, P. Thompson and N. Burckhardt) and co-editor of Mirrors and Reflections: Processes in Systemic Supervision (with Charlotte Burck) as well as many other professional articles and book chapters. She has taught widely in the UK and internationally on many topics, including children and post divorce conflicts, systemic approaches to families where there is parental mental illness and on systemic couple's therapy. She continues to find ideas about gender and power central to her understanding of family relationships and organisational dilemmas.
You may also like