Mentalizing in Child Therapy: Guidelines for Clinical Practitioners

Also by Jolien Zevalkink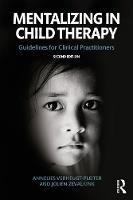 Paperback
£44.99
In stock, despatched within 24 hours
Free delivery worldwide
This title has been delisted and is no longer available to purchase
Mentalization-based child therapy, previously known as developmental therapy, is the latest branch on the psychoanalytic tree of knowledge. It comprises a number of techniques that address deficiencies in specific areas of psychological development. It aims to treat children whose development has come to a standstill. A combination of data from psychoanalysis, infant research, attachment research, and neurobiology was of decisive significance in reaching this point. It is becoming clear that neurobiological processes can be understood very well on the basis of psychoanalytic frameworks. These new insights into peoples mental functioning also serve to foster collaboration, resulting in an integration of the more relationship-oriented and the more competence oriented treatments. This book aims to fill a growing need in mental health care for children and young people to recieve an integrated treatment.
Reviews and Endorsements
'This book is a valuable instrument in clinical training, particularly because of the way it elaborates on the many interventions and techniques, differentiates and operationalizes them, and furthermore illustrates them using case material.'
- Nicole Vliegen, PhD, Researcher and Psychoanalyst, University of Leuven, Belgium, in Kind en Adolescent [Child and Adolescent]

'The book is an excellent guideline for therapy with children who are developmentally threatened or disturbed.'
- Anneke van den Bosch, Child Psychotherapist, Sofia Children's Hospital, Rotterdam, The Netherlands, in Kind en Adolescent Praktijk [Child and Adolescent Practice]

'The authors' merits lie within the fact that they are abundantly clear and thorough in their description of methodology and approach. This is the indispensable groundwork of any research, and will be sure to silence any sceptics.'
- R.J. van der Gaag, Professor in Child Psychiatry, Radboud University, Nijmegen; The Netherlands in Tijdschrift voor Psychiatrie [Journal of Psychiatry]

'Despite the differing backgrounds of the authors that have worked together to bring forth this book, it is a remarkably clear text, with a crystal-clear structure, in a well-edited publication.'
- Hans Peters in Tijdschrift Cliëntgerichte Psychotherapie (Journal of Person-Centred Psychotherapy]
About the Editor(s)
Annelies Verheugt-Pleiter is a psychoanalytic psychotherapist of adults and children. Her thirty years of experience also include working with adolescents and parents. She is a supervisor and trainer in psychotherapy training programs.
Jolien Zevalkink is a developmental psychologist and social anthropologist. She conducts research in developmental psychopathology, with emphasis on attachment disorganization, mentalizing problems and the effect of interventions. She is particularly interested in bridging the gap between scientific research and clinical practice.
You may also like