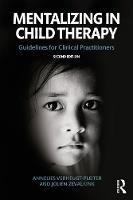 Book Details
Publisher : Routledge
Published : June 2021
Cover : Paperback
Pages : 226
Category :
Child and Adolescent Studies
Catalogue No : 95675
ISBN 13 : 9780367445003
ISBN 10 : 036744500X
Mentalizing in Child Therapy focuses on open-ended psychotherapy for children with complex mental health issues and attachment problems. It offers examples of personalized and integrated treatment that is firm in structure yet flexible in its focus (Peter Fonagy, foreword to first edition).
The book is based on the systematic observation of the treatment of complex problems in children (4-12 years) using a mentalizing therapeutic stance and a range of techniques to enhance mentalizing abilities and trust in other people, incorporating aspects of the more relationship-oriented and competence-oriented treatments. In this updated edition, the authors have elaborated on the topic of attention regulation, having included Siegel's concept of the 'window of tolerance'. They've also written more on the mentalizing abilities of the therapist, the importance of providing structure at the beginning of the treatment, and the value of communication for developing epistemic trust.
Featuring guidelines for clinical practitioners, this book is important for the clinical training of child psychotherapists, as well as for professional child psychiatrists, child psychologists and other therapists working with four to 12-year-old children experiencing significant developmental problems with mentalizing.
About the Author(s)
Annelies Verheugt-Pleiter is a psychoanalytic psychotherapist of adults and children. Her thirty years of experience also include working with adolescents and parents. She is a supervisor and trainer in psychotherapy training programs.
Jolien Zevalkink is a developmental psychologist and social anthropologist. She conducts research in developmental psychopathology, with emphasis on attachment disorganization, mentalizing problems and the effect of interventions. She is particularly interested in bridging the gap between scientific research and clinical practice.
You may also like