Love and Loneliness at Work: An Inspirational Guide for Consultants, Leaders and Other Professionals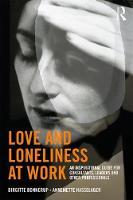 Book Details
Publisher : Routledge
Published : May 2019
Cover : Paperback
Pages : 192
Category :
Organisational Psychology
Category 2 :
Coaching
Catalogue No : 94318
ISBN 13 : 9781138315631
ISBN 10 : 113831563X
Love and loneliness, in both their presence and absence, are key aspects of our lives - including our working lives.
Love and Loneliness at Work offers an accessible and practical starting point for understanding the connections between emotions, individual working life and organisations, focusing on love and loneliness. The book begins with an engaging chapter-length case study that illuminates the themes discussed. Taking a psychodynamic perpective, Bonnerup and Hasselager examine love and how it influences our feelings about tasks, organisations and participation, as well as uniquely exploring pairs in working life. The book explores loneliness as an inner state of mind, as an aspect of the professional role and as a group dynamic experience, and assesses the psychological burden of feeling lonely in an organisation. Bonnerup and Hasselager also provide an overview of key theoretical concepts, including the unconscious, anxiety, libido, projective processes, and the concepts of inner and outer self, providing the tools required to examine, understand and work with the emotional strength and vulnerability of an organisation.
This book provides unique insights into how understanding these feelings can help leaders, decision makers and employees contribute to healthier and happier workplaces. It will be an essential guide for coaches in practice and in training, as well as leaders and managers, human resources (HR) and learning and development (L&D) professionals and consultants within organisations seeking to expand their understanding of organisational dynamics. With its strong theoretical base, it will also be of interest to academics and students of coaching, coaching psychology, psychodynamic consulting, organisational psychology, leadership and management and organisational change, and to anyone seeking an insight into the emotional dynamics of working life.
You may also like