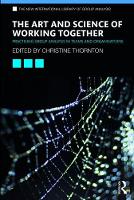 Also by Christine Thornton
The Art and Science of Working Together: Practising Group Analysis in Teams and Organisations is a primary resource for anyone wishing to learn more about the complex unconscious dynamics of organisations, providing a practical guide for organisational work, a guide to how to improve things, and a strong theoretical foundation in the group analytic concept of the `tripartite matrix'. Group analysis is a highly developed science of group relationships, which allows complexity and systems perspectives to be held in mind alongside organisational psychology, strategic development and business wisdom. Organised into eight sections, the book describes the essence of organisational group analysis, including the art of conversation, leadership, ethical issues in team working, and working with whole organisations. It addresses issues such as `us-and-them' dynamics, the nature of systems boundaries and the relationship between an organisation and its context.
Leaders and leading consultants give case studies, describing their thinking as they work, to illustrate the theory in action. This essential new resource will allow clinically-trained practitioners to extend their scope into organisational work, and all coaches and leaders to benefit from knowledge of the group analytic discipline. It is essential reading for consultants and coaches working with teams and organisations, and for leaders within organisations.
You may also like