Intergenerational Complexes in Analytical Psychology: The Suffering of Ghosts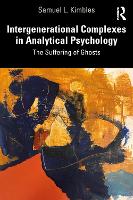 Also by Samuel L. Kimbles
Intergenerational Complexes in Analytical Psychology: The Suffering of Ghosts draws attention to human suffering and how it relates to unacknowledged and unrecognized traumatic cultural histories that continue to haunt us in the present. The book shows the many ways that our internal lives are organized and patterned by both racial, ethnic, and national identities, and personal experiences.
This book shows how the cultural unconscious with its multiple group dynamics, identities, nationalities, seething differences of conflicts, polarizations, and individual personalities are organized by cultural complexes and narrated by archetypal story formations, which the author calls phantom narratives. The emotional dynamics generated constitute potential transitional spaces or holding containers that allow us to work with these issues psychologically at both the individual and group levels, offering opportunities for healing. The chapters of the book provide numerous examples of the applications of these terms to natural and cultural catastrophes as well as expressions as uncanny phenomena.
Intergenerational Complexes in Analytical Psychology is essential reading for analytical psychologists, Jungian psychotherapists, and other professionals seeking to understand the impact of intergenerational trauma on individuals and groups. It is also relevant to the work of academics and scholars of Jungian studies, sociology, trauma studies, politics, and social justice.
Reviews and Endorsements
"Samuel L. Kimbles (doctor brother man), my dear friend and colleague, is one of the kindest, most compassionate intellectuals that I know. In this time of national crisis precipitated by the COVID-19 pandemic and the relentless violence against Black, Brown, and Indigenous bodies, Sam's latest book, The Suffering of Ghosts: Intergenerational Complexes in Analytical Psychology, provides a psychoanalytic lens to illustrate our complicity in past traumatic cultural histories and contemporary injustices. In his brilliant, insightful analysis, Sam focuses on how we use our own personal suffering as a defense against recognizing the ways in which we are implicated in the suffering of others. As such, we miss opportunities for the mutual recognition essential for reparative communication and instead, both consciously and unconsciously, perpetuate social enactments that replicate intergenerational traumatic cultural experiences in our current everyday lives. I strongly recommend this book for anyone who is interested in understanding the psychosocial underpinnings of our ongoing cultural strife and who believes that insight can lead to behavioral change. The Suffering of Ghosts lights a pathway for a brighter collective future." - Medria L. Connolly, PhD, co-author with Bryan K. Nichols, of Transforming Ghosts into Ancestors: Un-silencing the Psychological Case for Reparations to Descendants of American Slavery.

"Sam Kimbles has once again substantially deepened our understanding of how unconscious dynamics operate in political, social, and cultural and group processes. In this book, he pulls together histories of violence, oppression, and social injustices to present to the reader an emotional field in which psyche generates its own responses and creates conditions for subjectivity grounded in the cultural unconscious. On such a reading of the psyche, we see in a remarkably rich and attuned way what possibilities exist for change and healing. Sam's work represents a significant contribution to our field." - Andrew Samuels, former professor of analytical psychology, University of Essex, and author of The Political Psyche.

"If your ghosts were stolen from Africa, sold into slavery, or were indigenous peoples deprived of their lands, or immigrants fleeing poverty, famine, and war or Jewish refugees from the Nazis, Central American refugees from gangs, all of you have terrible stories to tell. How do those of us who work with human suffering treat your pain? How do we heal the severed feeling of kinship in our culture, our recognition of each other as fellow citizens, all of us carriers of ancestral trauma? These are among the questions Samuel Kimbles addresses in his wise and compassionate book. . . . The Suffering of Ghosts is a major contribution to Jungian thought, a profound and hopeful call to bring what Jungians know about working with the unconscious into the social and cultural realm. If your ghosts are agitated, moaning and muttering, rolling over in their graves, read them this book. They will thank you for it." - Naomi Ruth Lowinsky, author of The Rabbi, the Goddess and Jung: Getting the Word from Within.
About the Author(s)
Samuel L. Kimbles is a psychologist, Jungian analyst, member and former president of the C. G. Jung Institute of San Francisco, and a clinical professor (VCF) in the Department of Family and Community Medicine at the University of California, San Francisco. He has a private practice in San Francisco and Santa Rosa, California, and works as a clinical consultant to organizations. In addition to lecturing and presenting widely, he has published several works on the cultural complex. Phantom Narratives: The Unseen Contributions of Culture to Psyche explores the themes of psyche in groups and society. This book Intergenerational Complexes in Analytical Psychology: The Suffering of Ghosts continues the processes of exploring the unconscious at the level of culture and groups.
You may also like