Shared Traumas, Silent Loss, Public and Private Mourning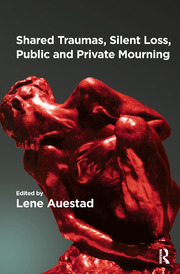 Book Details
Publisher : Routledge
Published : February 2017
Cover : Paperback
Pages : 230
Category :
Psychoanalysis
Category 2 :
Psychotherapy and Politics
Catalogue No : 33529
ISBN 13 : 9781780491615
ISBN 10 : 1780491611
Also by Lene Auestad
This book aims to question the junctions of the private and the public when it comes to trauma, loss, and the work of mourning - notions which, it is argued, challenge our very ideas of the individual and the shared. It asks, to paraphrase Adorno, 'What do we mean by "working through the past"?, 'How is a shared work of mourning to be understood?', and 'With what legitimacy do we consider a particular social or cultural practice to be "mourning"?' Rather than aiming to present a diagnosis of the political present, this volume instead takes one step back to pose the question of what mourning might mean and what its social dimension consists in. Contributors reflect on the trauma of the Holocaust, the after-effects of the Vietnam War in the US, the Lebanese war-torn experience, victims of the Pacific War in Taiwan, and the Chilean dictatorship.
Reviews and Endorsements
'This fine collection of essays addresses the fundamental human experience of mourning. The volume ranges across disciplines, geographies, and histories, offering the reader challenges, surprises and often hope. In its inclusivity and scope, it is more than merely a welcome addition to a field of study, but opens up new ways of thinking about the possibilities of surviving the unbearable.'
— Dr Julia Borossa, Associate Professor, Director of the Centre for Psychoanalysis, Middlesex University, Group Analyst

'The illuminating cases presented in this volume outline the psychosocial consequences of political trauma under varying historical conditions, emphasising how individuals, groups, and entire societies respond to the hurts and pains lingering in the tormented aftermath of collective violence and personal violation. A poignant brilliance emerges out of the analytical sorrow communicated through the care-filled depictions of collective mourning and often its failures or inadequacies across cultures. This book helps to define the theoretical basis for further development of comparative mourning and bereavement studies.'
— Professor Edward Weisband, Edward S. Diggs Endowed Chair in the Social Sciences, Department of Political Science, Virginia Tech

'This book is the fruit of an innovative blending of psychoanalysis and politics, defying academic orthodoxy by creating a series of conferences on relevant social issues, inviting psychoanalysts, political scientists, and others to think together, crossing the boundaries of their discipline. Today, "Shared Traumas, Silent Loss, Public and Private Mourning" not only confront us daily through the physical violence of terrorist attacks but also collective political traumas such as Brexit and the election of Donald Trump. Whether we like it or not, our paradigm of the world has become globalised and traumatic events are now shared as never before. This inspiring collection of essays enriches our knowledge through past examples, and most importantly challenges us about our world today.'
— Kathleen Kelley-Lainé, Psychoanalyst, Société Psychanalytique de Paris, France

'Auestad's important conference series Psychoanalysis and Politics, soon to celebrate ten years of existence, here delivers its most significant book to date. Shared Traumas, Silent Loss, Public and Private Mourning investigates a broad range of topics including memorial public art, war games, sex slaves, and political drama. The contemporary political situation has often been understood in terms of mourning, as a response to the loss of political ideals, of real and imagined communities, thus making trauma and mourning into key affects for an understanding of modernity. Although there is an emphasis on understanding mourning and its consequences from the post-Holocaust point of view, the book also engages with the effects of colonialism in its other, more encompassing dimensions outside of Europe. This book is thus situated at the crossroads of a more closely knit "European" identity and its opening onto a more global scene that it has always depended on but too rarely acknowledged.'
— Dr Nicholas Smith, Senior Lecturer in Philosophy, Södertörn University, Stockholm
About the Editor(s)
Lene Auestad, PhD, is Research Fellow in Philosophy at the University of Oslo, and affiliated with the Centre for Studies of the Holocaust and Religious Minorities, Oslo. She moved to the UK to pursue long-standing interests in British psychoanalysis. Working at the interface of psychoanalytic thinking and ethics/political theory, her writing has focused on the themes of emotions, prejudice and minority rights. She is the author of Respect, Plurality, and Prejudice: A Psychoanalytical and Philosophical Enquiry into the Dynamics of Social Exclusion and Discrimination, and Psychoanalysis and Politics: Exclusion and the Politics of Representation, as well as a number of articles, including 'To Think or Not To Think', in the Journal of Social and Psychological Sciences, and 'Splitting, Attachment and Instrumental Rationality', in Psychoanalysis, Culture & Society.
A promotional video to illustrate this new book by Lene Auestad
You may also like