Integrative Couple Therapy in Action: A Practical Guide for Handling Common Relationship Problems and Crises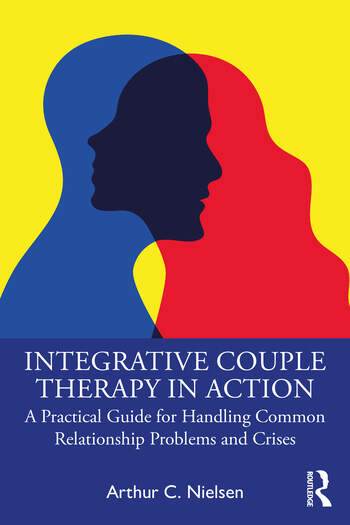 Book Details
Publisher : Routledge
Published : April 2022
Cover : Paperback
Pages : 284
Category :
Family, Couple and Systemic Therapy
Catalogue No : 96516
ISBN 13 : 9781032272177
ISBN 10 : 1032272171
Also by Arthur C. Nielsen
Presents a unique offering that integrates systems theory, psychodynamics, and psychoeducation interventions within a biopsychosocial conceptualization of couples' problems Offers suggestions for handling common presenting problems, comorbid psychopathology, and the nitty-gritty of daily practice Is an integrative and comprehensive text, unlike most books in the field that approach couple treatment from a single theoretical perspective
Reviews and Endorsements
"Couple therapy is a most difficult field. Art Nielsen's Integrative Couple Therapy in Action is a master class in how to integrate diverse therapeutic approaches to treating couples. Drawing on decades of experience and from the depth of his thinking about couple therapy, Nielsen integrates lessons from systems, psychodynamic and behavior therapies to produce a guide that is at once practical and wise. The book offers support to therapists with a wide range of approaches and a deeper understanding of the shoals upon which couples frequently flounder. It is a book to keep at hand for moments when therapists need a guide for navigating their way through clinical problems." - , MD, Co-Founder and Former Director, International Psychotherapy Institute.Former Chair, International Psychoanalytic Association Committee on Couple and Family Psychoanalysis; co-author, Object Relations Couple Therapy, and co-editor, Psychoanalytic Couple Therapy.

"This is a wonderful book about couple therapy. Saturated with the wisdom of one of America's most thoughtful and skillful couple therapists, Nielsen provides the sort of practical guide to practice for which couple therapists yearn. Building on a wide-ranging integrative framework, he helps couple therapists understand the intricacies involved in working with couples experiencing common problems and stressful situations such as issues with money, stepfamily issues, and sexuality. This book should be required reading for every graduate course in couple therapy and will be of great value to every couple therapist." - Jay Lebow, PhD, Editor, Family Process; Professor, The Family Institute at Northwestern University.

"Art Nielsen has written a tour de force, applying his comprehensive, flexible integrative approach to couple therapy to the common struggles couples present. Blending systemic, psychoeducational/behavioral, and psychodynamic theories and techniques in a systematic manner, Nielsen shows beginning and advanced clinicians how to bring these multiple perspectives to issues of money, issues of division of domestic labor, the balance between work and relationship time, affairs, couples on the brink of divorce or already engaged in that process, and stepfamilies. Based on science, therapeutic craft, and artistic use of metaphor, and with great attention to sustaining a working alliance, Nielsen provides a detailed roadmap for helping couples with these common challenges. This book is an essential text for couple therapists at any level of training and experience. Highly recommended, and highly engaging!" - Peter Fraenkel, PhD, Associate Professor of Psychology, The City College of New York, former Vice President, American Family Therapy Academy, and author of Last Chance Couple Therapy: Bringing Relationships Back from the Brink.

"In a comprehensive work that reflects a vast knowledge along with years of wisdom and experience as a couple therapist, Nielsen successfully integrates from across psychotherapy couple treatment models, drawing upon the most up-to-date research and scholarship, and offering all sorts of gems about how to conduct therapy along with helpful tools that will prove indispensable to your practice. Definitely a must have on your bookshelf!" - Rhonda Goldman, PhD, Professor, The Chicago School of Professional Psychology, Author: Case Formulation in Emotion-Focused Therapy: Co-creating Clinical Maps for Change, and The Clinical Handbook of Emotion-focused Therapy.

"Art Nielsen has done it again! Like his first book, this sequel is another clear, well-written, user-friendly guide that draws on the author's 40 years of clinical experience, seemingly encyclopedic knowledge of the couple therapy and related literature, and ability to translate complicated concepts into plain English. Both are books I wish I'd had when I saw my first couple, and yet I still learned from them over 30 years later." - Carla Leone, PhD, Faculty Institute for Clinical Social Work (Chicago); Secretary, International Association of Psychoanalytic Self Psychology; author of numerous papers on the application of self psychology to the treatment of couples and families.


About the Author(s)
Arthur C. Nielsen, M.D. is Clinical Associate Professor of Psychiatry at Northwestern's Feinberg School of Medicine, Associate Director of the Integrative Psychoanalytic Couple Therapy Program at the Chicago Psychoanalytic Institute, and the author of A Roadmap for Couple Therapy: Integrating Systemic, Psychodynamic, and Behavioral Approaches.


You may also like