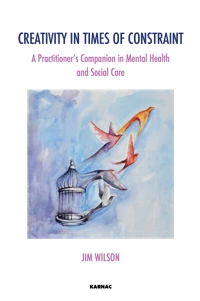 Book Details
Publisher : Routledge
Published : September 2017
Cover : Paperback
Pages : 208
Category :
Family, Couple and Systemic Therapy
Catalogue No : 36025
ISBN 13 : 9781782202011
ISBN 10 : 1782202013
Also by Jim Wilson
Contemporary practices in mental health (and social care) are increasingly characterized by approaches that overly simplify social, political, and psychological concerns. The persistence and ubiquity of models designated to tackle diagnoses through focused technologies serve to minimize the human encounter in all its relational and systemic complexity. Practice becomes a technological activity instead of one concerned with the unique creative potential in meeting with others in therapy.
With the growth of privatized mental health services, many practitioners are facing a plethora of "Must Do's" that focus on measurable outcomes, with clear goals and cost effective treatments. Yet, in practice, such apparent clarity of purpose often leads to bureaucratic clutter and risk aversion instead of clearing the decks for creativity.
The focus of this book is how the practitioner or therapist can navigate around current practices in order to avoid falling into the rapids of quick fix solutions, whilst staying afloat to find realistic outcomes to human dilemmas that are brought to us. Therapy is only worthwhile if the practice is not dictated by a "manual" and instead guided by a "humanual" that does not eschew theories or protocols but places the human encounter first and foremost as the locus of attention.
Reviews and Endorsements
'This is an important book – a passionate and empathic book full of creative ideas and compassionate stories of sensitive systemic practices. These stories inspire and enthuse. According to Jim Wilson, our focus as practitioners has to be clear: we work for humanisation and connection. Everything else is a distraction. The book really is a practitioner's companion. It re-connects us with our generosity as practitioners, mobilised as we are by the suffering of others who ask for our help. It re-connects us with our humility, as well as with our curiosity for the stories our clients want to share with us because we are mortals like them. It re-connects us with our creativity and our ability to offer fresh ideas that may possibly be useful for our clients in dealing with the challenge life poses for them. Wilson's book is a tour de force. He succeeds in discussing the ethical aspects of the dominant discourses of bureaucratic must-dos, and of a neoliberal secret agenda, with wisdom and a light tone, generating hope rather than despair. If you buy one book about family therapy this year, let it be this one.'
- Peter Rober, clinical psychologist and family therapist, and Full Professor at the University of Leuven, Belgium

'Jim Wilson poetically shows us that connection and companionship shift constraint to possibility and centre our attention on the humanising potential of our work as mental health and social care practitioners. Wilson acknowledges the ease with which we can fall into a mechanisation of social care that dehumanises those with whom we work as well as ourselves. Yet, as a "possibilist" (and not a pessimist nor optimist) his systemic humanism breathes life (and joy) into our work and reminds us to maintain our curiosity about all forms of practice and all forms of life experience. It is the binary, either/or thinking that traps us. Instead, Wilson reminds us that curiosity generates creativity; creativity generates humanising practices. Wilson gives us the "nod", like a musician inviting what is needed at the moment. And, in this moment, practitioners and clients need systemic humanism.'
- Sheila McNamee, PhD, University of New Hampshire and the Taos Institute

'This is an elegantly written, thoughtful, and thought-provoking book. It is rich in creative ideas and skilfully weaves together theory, practice, the self of the practitioner, and ethics. It is a book full of (realistic) hope and optimism about what might be possible to achieve in difficult times. And what shines through is Jim Wilson's ability to engage and connect with children, families and colleagues, not just by being sensitive but also by being empathically challenging. It was a pleasure to read.'
- Dr Barry Mason, family and systemic psychotherapist, and a former Director of the Institute of Family Therapy, London
About the Author(s)
Jim Wilson is a systemic psychotherapist working within the National Health Service in Wales. His publications are widely used in the field of family therapy and related disciplines. He is former chairperson of the Centre for Child Studies at the Institute of Family Therapy, London and former chair of The Family Institute in Wales. He provides training supervision and consultation to professionals and organisations in the UK, mainland Europe, South America, and East Asia.
You may also like