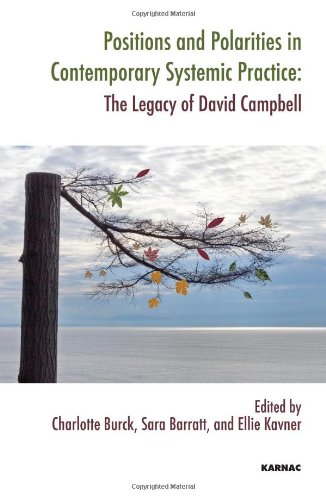 Also by Charlotte Burck

Also by Sara Barratt
This book provides a rich collection of the work that has been informed by the ideas of the eminent family therapist and clinical psychologist, Dr David Campbell who died in August 2009. Contributors are drawn from different fields and describe models they have developed for organizational consultation, training, therapy and research. The book includes a range of important topics, key ideas which thread through contemporary theoretical frameworks, a research study into young people's experience of parental mental illness, and the application of Dr Campbell's use of semantic polarity theory in supervision, research and clinical practice. The innovative consultancy model developed by David Campbell with Marianne Groenbaek is elaborated here. Personal accounts of work in different contexts include a priest consulting within his community, the use of self in training systemic psychotherapists, the experience of consultation in academic settings, and a narrative of a training course for psychiatrists. Interspersed with these chapters are David Campbell's own reflections concerning the development of his ideas and practice over time. The book shows the value of simply expressed ideas applied in complex circumstances and will be welcomed by many different readers to enrich their thinking and practice.
Reviews and Endorsements
The Systemic Thinking and Practice Series was co-founded in 1989 by series editors David Campbell and Ros Draper to promote innovative applications of systemic theory to psychotherapy, teaching, supervision, and organizational consultation. David Campbell's striking ability to articulate very complex ideas in simple and engaging ways helped many others to connect to the ideas which underlie systemic family therapy and systemic consultation. As well as honouring his work, this volume exemplifies many of the key aims of the Systemic Thinking and Practice Series series, covering as it does theory and practice, teaching research, consultation, and supervision, as well as new and creative applications to the world beyond therapy. It has much to offer to a wide readership of psychotherapists and others interested in multiple ways of applying systemic ideas.

'David Campbell was one of the pioneers of the systemic approach, and this volume, inspired by the Festschrift celebrating his work shortly before he died, offers readers the opportunity to read about innovative contemporary projects and developments in the field of systemic thinking and practice across a broad spectrum of professional contexts. The group of international contributors describe the influence of David Campbell on their practice, creating a "collage" of the ideas and applications that formed the core of his own systemic thinking and practice, and of the many diverse shapes and hues that reflect transformational change and the importance of the observing self. Readers will find it hard not to develop their understanding of the power of staying curious whether as a therapist, supervisor, trainer, researcher or organisational consultant. This volume bears all the hallmarks of a book to challenge, provoke, and stimulate the reader.'
- Ros Draper, co-founder of the Systemic Thinking and Practice Series

'I knew David Campbell for more than twenty years. We shared those passionate, creative and generative years when the systemic approach became a theoretical framework for interventions in many different contexts. This book witnesses and documents in depth all of this.'
- Laura Fruggeri, Professor of Psychology of Family Relations, University of Parma
About the Editor(s)
Charlotte Burck is a Consultant Systemic Psychotherapist, Trainer and Researcher in the Child and Family Department of the Tavistock Clinic, London. Her books include Gender and Family Therapy (with Gwyn Daniel), Gender, Power and Relationships (with Bebe Speed)), Mirrors and Reflections: Processes of Systemic Supervision (edited with Gwyn Daniel) and Multilingual Living: Explorations of Language and Subjectivity. Her interests include supervision and consultation, systemic research, and developing clinical work with families who have experienced domestic violence and enduring parental conflict.
More titles by Charlotte Burck
Sara Barratt is a Consultant Systemic Psychotherapist and team leader of the Fostering, Adoption and Kinship Care Team at the Tavistock and Portman NHS Trust where she also teaches on the Masters Training and the Systemic Supervision course. In her independent practice she consults to systemic psychotherapists, local authority social work teams and works with individuals, couples and families in General Practice.
Ellie Kavner is a Consultant Family Therapist in the Child & Family Department of the Tavistock & Portman NHS Trust and is Trust-Wide Head of Discipline, with both a clinical and training responsibility, including professional training in the Masters in Systemic Psychotherapy and courses for organisations in leadership and management. She holds special clinical and training interests in familial violence and early years.
You may also like