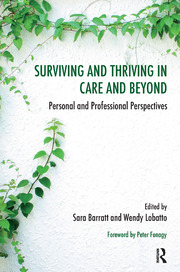 Also by Sara Barratt
This is a book about children who have to grow up apart from their biological parents, the impact of this on their lives and on those who look after them, and how we can respond to the challenges this poses in order that they can grow and develop in healthy directions. It provides a systemic framework to describe working with children and adults who are or have been in care or adopted, as well as working with their adoptive parents and carers, highlighting their own narratives and those of professionals working with them.
The authors have tried to make space for multiple voices to speak and describe aspects of the care system and life beyond. There are contributions from those who have been brought up away from their biological parents, their adoptive parents and foster or kinship carers. There are also contributions from researchers and professionals with expertise in working with children in substitute care, who describe their theoretical and clinical approaches, privileging the voices of those with whom they work.
This book seeks to highlight the possibilities and opportunities that can be offered and taken by people who were not able to grow up in their biological families. Combining a mixture of insider knowledge, realism, creativity and hope, it is essential reading for all working and living in this field.
Reviews and Endorsements
'This book will prove a rich resource for practitioners and policy makers alike. There are accounts by adopters, carers, children, and their therapists of the complex work involved in supporting those who are entrusted with raising children from backgrounds of adversity. The book gives voice to those who rarely have the opportunity to articulate their experience, and celebrates the dedication and creativity of a range of professionals who are tasked with providing support for these children and families at different stages of their lives.'
––Jeanne Kaniuk, OBE, Managing Director, Adoption Services, Coram

'The thoughtful awareness of doing what is needed in each unique circumstance makes this book a positive and enlightening contribution to the fields of social care and adoption. It thrives on compassionate, well-informed practice wisdom that inspires the reader to find enrichment in this challenging area of work. This is a highly commendable compilation that should be read by all those involved in providing effective services to those who are or have been in social care.'
––Jim Wilson, systemic psychotherapist, author, consultant, and trainer

'This is a unique collection of perspectives by those with the deepest understanding of this multi-faceted yet urgent problem. The stories are not pretty, but the determination of all the protagonists to put right what was so wrong, to confront inconceivably cruel experiences and find imaginative and uplifting solutions, gives one courage to carry on with this work. This is a landmark contribution creating a platform of hard-won insight that, if conscientiously read, should make all those who are part of the process of foster care and adoption better at what they do.'
––Professor Peter Fonagy, OBE, from the Foreword
About the Editor(s)
Sara Barratt is a Consultant Systemic Psychotherapist and team leader of the Fostering, Adoption and Kinship Care Team at the Tavistock and Portman NHS Trust where she also teaches on the Masters Training and the Systemic Supervision course. In her independent practice she consults to systemic psychotherapists, local authority social work teams and works with individuals, couples and families in General Practice.
Wendy Lobatto is a social worker and family therapist, and currently manages 'First Step' an innovative psychological health screening and assessment service for looked after children in the London Borough of Haringey, which is commissioned from the Tavistock & Portman NHS Foundation Trust. She has worked in the child mental health /social care field for over twenty-five years.
You may also like