Infant Observation and Research: Emotional Processes in Everyday Lives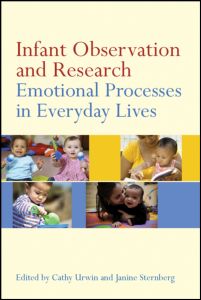 Book Details
Publisher : Routledge
Published : January 2012
Cover : Paperback
Pages : 200
Category :
Child and Adolescent Studies
Catalogue No : 31223
ISBN 13 : 9780415616607
ISBN 10 : 0415616603
Also by Janine Sternberg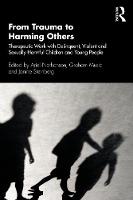 Also by Cathy Urwin
Psychoanalytic infant observation is frequently used in training psychoanalytic psychotherapists and allied professionals, but increasingly its value as a research method is being recognised, particularly in understanding developmental processes in vulnerable individuals and groups. This book explores how infant observation can be used as a research methodology and discusses the strengths and limitations from a methodological and philosophical point of view.
Infant Observation and Research uses detailed case studies to demonstrate the potential of infant observation as a research method. Divided into three sections this book covers:
* Infant observation as part of the learning process
* How infant observation can inform understanding and influence practice
* Psychoanalytic infant observation and other methodologies.
Throughout the book, Cathy Urwin, Janine Sternberg, and their contributors introduce the reader to the nature, scope and value of psychoanalytic infant observation. This book will therefore interest a range of mental health practitioners concerned with early development and infants' emotional relationships, as well as academics and researchers in the social sciences and humanities.
Reviews and Endorsements
Contents
Introduction.
Part I: Epistemology and Infant Observation as Part of the Learning Process.
Price, Cooper - The Baby in Mind: The Practical and Clinical Relevance of Debates about the Epistemological Status of the Observed Baby.
Rustin - Infant Observation Research: Questions of Method.
Music - How Do We Know the Ways in Which Infants Experience the World? Lessons From Child Development Research.
Sternberg - Infant Observation: Why it is at the Heart of Training.
Trowell, Miles - An Account of an Application in the Training of Front Line Professionals with Children and Families.
Part II. How Infant Observation Can Inform Understanding and Influence Practice.
Urwin - Observing Cultural Difference and Observing Ourselves.
Reid - The Experience of Babies Born after a Perinatal Loss.
Shallcross - What Can be Learned from a Single Case of Psychoanalytic Infant Observation?
Wakelyn - Infant Observation in Foster Care.
Rhode - Infant Observation as an Early Intervention: Lessons from a Pilot Research Project.
Part III. Psychoanalytic Infant Observation and Other Methodologies.
Jones - A New Way of Helping a Traumatised and Emotionally Frozen Mother Observe and Be With her Baby.
Briggs, Behringer - The Links between Infant Observation Research and other Paradigms.
Bradley, Selby, Urwin - Group Life in Babies: Establishing a Method.
Datler, Trunkenpolz, Lazar - Observing in Nursing Homes: The Use of Single Case and Organisational Observation as a Research Tool.
Shuttleworth - 'Faith and Culture': Community Life and the Creation of a Shared Psychic Reality.
Miller - Afterword.
About the Editor(s)
Cathy Urwin is a Consultant Child and Adult Psychotherapist and Research Fellow at the Tavistock Clinic, London.
Janine Sternberg is a Consultant Child and Adolescent Psychotherapist at the Portman Clinic, Tavistock and Portman NHS Trust, having worked for many years at the Tavistock Mulberry Bush Day Unit. She trained originally as a child psychotherapist at the Tavistock Clinic and subsequently as an adult psychotherapist at the BAP. She is very involved in training issues in both institutions and active in the professional body for child psychotherapists, the ACP. She is currently Joint Editor of the Journal of Child Psychotherapy.
You may also like