Infant Observation: Creating Transformative Relationships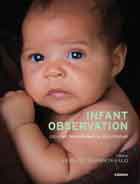 Book Details
Publisher : Routledge
Published : May 2014
Cover : Paperback
Pages : 320
Category :
Child and Adolescent Studies
Catalogue No : 34801
ISBN 13 : 9781782200758
ISBN 10 : 1782200754
Also by Frances Thomson-Salo
Seminal and representative papers have been chosen to illustrate the vital importance of infant observation in psychoanalytic training, tracing influences on the practice of infant observation and contemporary developments. The book outlines the thinking that has evolved since Esther Bick's introduction of this innovative component in Tavistock child psychotherapy and British Psychoanalytical Society training. With a newly written substantial general introduction, and Esther Bick's central paper on infant observation, other authors include Jeanne Magagna, Anthony Cantle, Maggie Cohen, Juliet Hopkins, Didier Houzel and Helga Coulter. More contemporary contributions include Aiveen Bharucha, Jane Blatt, Dimitra Bekos, Sally Moskowitz and Graham Music.
Reviews and Endorsements
'This is a rich and enlightening book, both emotionally engaging and scholarly. It builds on previous writings on infant observation, and is superbly more than an edited book. Seminal papers are reproduced but Thomson-Salo's introductions to each contain her own original thinking. Key points are connected with psychoanalytic and other writers. The reader feels deeply immersed in the experience of, and the thinking about, infant observation. Reading this book is transformative. The book is also challenging. There is a critique of the process; problematic and ethical issues are raised. Teachers and students of infant observation will be re-inspired, other professionals encouraged to take it on. A wider group working with mothers and babies, who do not have the opportunity to do a specific observation, may notice more about the emotions of their clients, and become more aware of and able to deal with the feelings stirred up by their work.'
— Dr Dilys Daws, Honorary Consultant Child Psychotherapist, Tavistock Clinic

'Babies are designed to pull at our heart strings. So are our theories. This book traces the contribution of infant observation to adult and child psychoanalysis and psychotherapy, recurrently addressing the underpinning question – how to enter imaginatively into the dynamic experience of an other, and thoughtfully engage with the impact of unconscious mental content, without either becoming overwhelmed by the powerful feelings aroused or retreating into our own theoretical safe ground to contain these. By setting infant observation within its historical context and tracing its expansion within different psychoanalytic schools of thought across continents, in socio-culturally, linguistically diverse, and increasingly non-traditional family constellations, this volume challenges our complacency.'
— Professor Joan Raphael-Leff, Psychoanalyst and Social Psychologist, UCL/Anna Freud Centre, and author of Parent-Infant Psychodynamics

'Assembled from international contributors, this collection includes both previously published and new papers. Frances Thomson-Salo skilfully weaves the book together by providing an introductory section for each chapter acknowledging the history of infant observation, including Esther Bick's contribution, while reflecting the widening scope of infant observation as has been elaborated worldwide. All the papers focus on the most distinctive and profound aspect of infant observation: the unique opportunity for the observer to visit the infant and mother in the home. By recalling sequences and subtle detail, the observer, over time, gathers a complex picture of the early psychic world of the infant and of the mother–infant relationship. These are the elements that make infant observation a unique and compelling experience.'
— Rita Reiswig, Training Analyst for the Contemporary Freudian Society (New York), Member of the Institute for Psychoanalytic Training and Research (New York), Co-Director of the Anni Bergman Parent–Infant Training Program, child psychoanalyst, and member of the International Psychoanalytical Association
About the Editor(s)
Frances Thomson Salo trained with the British Society as a child and adult psychoanalyst, is a Training analyst and past President of the Australian Psychoanalytical Society, Chair of the International Psychoanalytical Association Committee of Women in Psychoanalysis, an editorial board member of the International Journal of Psychoanalysis, a consultant infant mental health clinician at the Royal Women's Hospital and child psychotherapist at the Royal Children's Hospital, an Honorary Fellow of the Murdoch Children's Research Institute, an Associate Professor on the faculty of the University of Melbourne Graduate Diploma for Infant and Parent Mental Health, and has published on child and infant-parent psychotherapy.
You may also like