Infant Observation and Research: Emotional Processes in Everyday Lives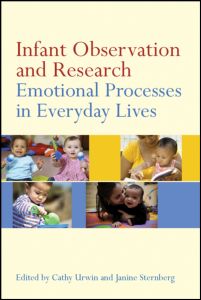 Book Details
Publisher : Routledge
Published : 2012
Cover : Paperback
Pages : 200
Category :
Child and Adolescent Studies
Catalogue No : 31223
ISBN 13 : 9780415616607
ISBN 10 : 0415616603
Reviews and Endorsements
Contents
Introduction.
Part I: Epistemology and Infant Observation as Part of the Learning Process.
Price, Cooper - The Baby in Mind: The Practical and Clinical Relevance of Debates about the Epistemological Status of the Observed Baby.
Rustin - Infant Observation Research: Questions of Method.
Music - How Do We Know the Ways in Which Infants Experience the World? Lessons From Child Development Research.
Sternberg - Infant Observation: Why it is at the Heart of Training.
Trowell, Miles - An Account of an Application in the Training of Front Line Professionals with Children and Families.
Part II. How Infant Observation Can Inform Understanding and Influence Practice.
Urwin - Observing Cultural Difference and Observing Ourselves.
Reid - The Experience of Babies Born after a Perinatal Loss.
Shallcross - What Can be Learned from a Single Case of Psychoanalytic Infant Observation?
Wakelyn - Infant Observation in Foster Care.
Rhode - Infant Observation as an Early Intervention: Lessons from a Pilot Research Project.
Part III. Psychoanalytic Infant Observation and Other Methodologies.
Jones - A New Way of Helping a Traumatised and Emotionally Frozen Mother Observe and Be With her Baby.
Briggs, Behringer - The Links between Infant Observation Research and other Paradigms.
Bradley, Selby, Urwin - Group Life in Babies: Establishing a Method.
Datler, Trunkenpolz, Lazar - Observing in Nursing Homes: The Use of Single Case and Organisational Observation as a Research Tool.
Shuttleworth - 'Faith and Culture': Community Life and the Creation of a Shared Psychic Reality.
Miller - Afterword.