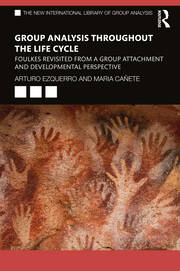 Book Details
Publisher : Routledge
Published : February 2023
Cover : Paperback
Pages : 292
Category :
Psychoanalysis
Category 2 :
Group Psychotherapy
Catalogue No : 96935
ISBN 13 : 9780367766122
ISBN 10 : 9780367766
Also by Arturo Ezquerro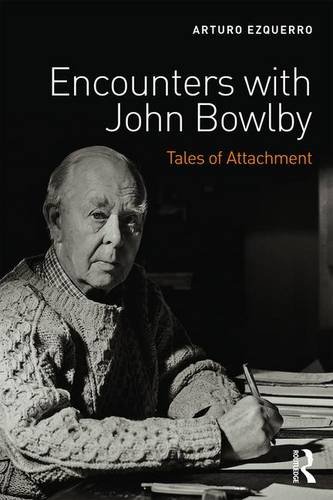 Arturo Ezquerro and María Cañete present a captivating journey through human development, group lives and group attachment from infancy all the way into old age. Co-constructed with meticulous anthropological, psychosocial, cultural and clinical research, as well as true, stirring stories and insights which contain a rare blend of common sense and inspiration, this book offers an exciting new outlook on attachment and group analysis.
Group Analysis throughout the Life Cycle first assesses psychosocial, peer group and other group developmental studies, within a broad evolutionary and cultural context, looking into changes and constancies, continuities and discontinuities, as well as overlaps that occur throughout each developmental stage. It then presents a thorough review of psychoanalytic, group-analytic and wider group literature. The book concludes with a consideration of qualitative group-analytic research which examines clinical group phenomena that can be present in all age groups, as well as distinct phase-specific characteristics and developmental tasks, as they find expression in the therapeutic process.
Presented with frankness, self-reflective thinking and compassion, Group Analysis throughout the Life Cycle will be essential reading for psychotherapists, psychoanalysts, group analysts, psychiatrists and other professionals in practice and in training. It will also appeal to healthcare professionals interested in human development and attachment theory.
Reviews and Endorsements
"Although group psychotherapy and group analysis have been practiced for over a century, no one has written as significant a textbook about the history, development and future direction of this field as Arturo Ezquerro and María Cañete have done. I congratulate these accomplished authors for having produced a work of great comprehensiveness, scholarly gravitas and deep thinking, which expands our understanding of the vital role of group attachment throughout the life cycle and illuminates ways in which individual and group practitioners can offer more effective treatments." - Prof Brett Kahr, Senior Fellow Tavistock Institute of Medical Psychology, Freud Museum's Honorary Director of Research, Visiting Professor of Psychoanalysis and Mental Health, Regent's University of London.

"This remarkable study moves the reader along to think deeply about the enormous importance of groups for what made us human, and adds a new dimension to current knowledge of our sociability as a species." -Dr Mauricio Cortina, Psychoanalyst, Director Attachment, Development and Human Evolution, Washington School of Psychiatry.

"A unique developmental perspective on group lives and more: Drawing on meticulous anthropological, psychosocial, organisational and clinical research, as well as on their prolific careers over four decades, the authors have produced a wonderful book in which they study the nature and evolution of group attachment, both in the group and to the group, as we travel through the whole life cycle. Fundamental reading within any discipline interested in how and why groups shape our lives and evolve over time." - Dame Clare Gerada DBE, FRCPsych, President Royal College General Practitioners.

"A fascinating integration of attachment theory and developmental group analysis that elucidates psychosocial dynamics which, as a historian, I endeavour to understand: group processes through which deeply flawed leaders transpose their problems onto their countries in ways that both feed upon and inflame citizen's own anxieties and flaws, contributing to the disparate, rigid and often authoritarian groupthink they need to stay in power. In magisterial terms, this book provides a deeply compassionate way to understand the frightening world in which we live." - Sir Paul Preston KBE, Professor of International History, London School of Economics.

"This readable, enjoyable and accessible text brings together a creative combination of group attachment and group-analytic perspectives on the human life cycle. It is a welcome addition to the rich bookshelf of NLGA titles and essential reading for students on all IGA courses and qualified individual and group psychotherapists alike. The authors weave learned scholarship with deep clinical experience and original case material over every age and stage of the developmental journey. We see ourselves and our patients in every chapter, with each phase and individuation challenge laid bare with uncanny insight that speaks directly to the reader." - Prof Barry Curnow, National Director of Training, Institute of Group Analysis. 

"This book offers an in-depth exploration of how group identity and group attachment processes influence our sense of self, as they unfold throughout our lives. Its modern recognition of how the stages of human development have evolved over time, offers an essential reminder of the fluidity of our identities and how much this is determined by the groups we belong to. I wholeheartedly recommend it to all psychotherapists and counsellors and to anyone interested in the changes of our own minds." - Andy Cottom, Director Westminster Therapy, Vice-Chair UK Council for Psychotherapy.

"An excellent book by two seasoned and imaginative clinicians, who combine an exhaustive review of the literature on life-span psychosocial development and rich group-analytic and group attachment thinking to different contexts, including therapy, in all life stages. This comprehensive account of identity formation, developmental tasks and expressions of group functioning is a timely and decidedly valuable contribution to the psychoanalytic, group and attachment literature on the understanding of what shapes us, as we grow from childhood into senescence." - Dr Tony Kaplan FRCPsych, Consultant Child and Adolescent Psychiatrist.

"An ambitious, innovative and timely work that takes a life-span perspective on our development as group animals. With Shakespeare's seven life stages in mind, the seven chapters explore how personal and group identity and attachment evolve from cradle to grave, including relevant implications for psychoanalytic and group-analytic theory and practice. Empirical studies and clinical narratives are combined creatively for each life stage, making this book a must read for individual and group psychotherapists and a highly recommended read for all mental health professionals." - Dr Gwen Adshead FRCPsych, Consultant Forensic Psychiatrist, Group Analyst.

"For practitioners, students and theoreticians, whether working in group analysis, group relations, psychoanalysis or social psychology, this timely book plugs a significant conceptual gap created by the insufficient attention paid to group attachment and psychosocial development from a life cycle perspective. A meaningful and reasoned integration of Bowlby's attachment theory and models of group psychosocial development. With this pioneering work, developmental group analysis has now come of age." - Peter Zelaskowski, Group-Analytic Psychotherapist, Editor Group-Analytic Contexts (2014-2021).

"This ground-breaking book is a much-needed addition to the theory and practice of group analysis. Seven chapters combine details of each life stage with case-studies drawn from the wide-ranging experience of the authors. Bringing together group analysis, attachment and the life cycle, this exciting study distinctively combines developmental theory, qualitative research and clinical practice. It is a unique contribution to the literature that should be essential reading for present and future students, as well as individual and group practitioners." - Revd Dr Anne Holmes, Group Analyst, Former Tutor Oxford IGA Foundation Course.

"You don't have to be an expert in the psychoanalytic, group-analytic or attachment field to benefit from the authors' deep insights into the Seven Ages of Man, knowledge gleaned from their extensive research and work with patient groups of all ages. Group attachment and human development, the core subjects of the book, are universal and the authors' means of expression are elegant, jargon-free and accessible to all." - Mike Bailey, Editor, Publisher, Writer, Society of Authors.

"A valuable and original contribution to group analysis and more. It highlights not only the wide applicability of the group approach to people at different life stages, from childhood to old age, but the way human development is intrinsic to the group process, reflected in it and enhanced by it. This book will be of particular use to all individual and group practitioners and to those studying the important relationship between life development and the group context." - Dr Morris Nitsun, Psychologist, Psychotherapist, Group Analyst, Artist, Author of The Anti-Group. 

"A well-researched, balanced, incisive and very readable text which skilfully integrates life-span developmental theories, clinical work across all age groups and a broader societal perspective. Essential reading for mental health professionals, social and political scientists, it deserves a wider readership as societies and communities grapple with challenging personal and group circumstances in the times we live in." - Jimmy Burns Marañón OBE, Author & Journalist, Chairman British-Spanish Society.

"As I read, I found myself quickly moved to reflecting on my work as a therapist and trainer and, more personally, on my own life as it approaches the later stages. A real strength of this study is that it describes, beautifully and scholarly, key developmental tasks and challenges at different life periods, and how these build on each other and can be coherently integrated into a whole and meaningful existence." - Dr Ray Haddock FRCPsych, Consultant Psychiatrist, Group Analyst, Licensed Systems-Centered Practitioner.

"The field of psychiatry is broad and some general psychiatrists may practise without encountering group analysis, which is why this book is such a breath of fresh air for the jobbing clinician. The authors clearly elucidate complex theoretical concepts (some deemed historically incompatible) whilst expertly illustrating them with straightforward and meaningful clinical vignettes. The patients described will be familiar to any psychiatrist. The book defines the crucial role that group attachment comes to play throughout the life cycle in an accessible and methodically educational manner." - Dr Danny Allen FRCPsych, Consultant General Adult Psychiatrist.

"An engaging, fully updated and inspiring volume that uniquely integrates group analysis, attachment theory and psychosocial development throughout the life cycle. Both John Bowlby and SH Foulkes would have been delighted with the publication of this new book, which is the most far-reaching exposition of the concept and therapeutic application of group attachment since Bowlby outlined it in 1969." 
- Dr Mario Marrone, Psychoanalyst, Group Analyst, Founder & President International Attachment Network.

"Group-analytic psychotherapy is often the treatment of choice for individuals of all ages. Yet, until this inspiring volume, a life span developmental perspective was non-existent. Drawing on their extensive training and clinical experience, and illustrated by compelling clinical vignettes, the authors integrate theory with the latest empirical research findings in group therapy and psychosocial and peer group development. This book fills a vital gap in the literature and will be useful to any health practitioner or patient interested in personal development, relationships and group processes." - Dr Jessica Yakeley FRCPsych, Director Portman Clinic, Tavistock & Portman NHS Trust, Fellow British Psychoanalytical Society.

"In reading this state-of-the-art study, I gained a fresh perspective into my professional life's work with both perpetrators and victims of abusive social and sexual behaviour. I highly recommend this book as a milestone in the understanding of both ordinary and exceptional human behaviour, and the exploration of the healing potential of group attachment." - Dr Estela Welldon FRCPsych, Honorary Member American Psychoanalytic Association, Founder & Honorary President International Association for Forensic Psychotherapy.

"The reader will embark on a passionate journey through the vicissitudes of human development. A most engaging and enlightening read that puts groups and group attachment at the centre stage of personal growth and creativity throughout life: a key contribution to developmental, psychoanalytic, attachment and group literature." - Prof Carla Penna, Psychoanalyst, Group Analyst, Former President Brazilian Association of Group Psychotherapy.

"While universalist narratives like psychoanalysis may be challenged and critiqued from postmodernist and relativist perspectives, the life cycle (the journey we all make) retains its claim to universality as does our need for attachment. This book further emphasises that we travel this journey in relationship with others through our attachments and our membership of various groups and cultures where our personalities and identities are formed. A distinctly valuable contribution to our struggle to make sense of our human condition." - Dick Blackwell, Associate Editor of Group Analysis.
About the Author(s)
Dr Arturo Ezquerro, a consultant psychiatrist, psychoanalytic psychotherapist and group analyst, is senior lecturer, assessor and trainer at the Institute of Group Analysis, and former Head of NHS Medical Psychotherapy Services in Brent, London. He was supervised by John Bowlby at the Tavistock Clinic (1984-1990) and has published over 60 articles and book chapters in five languages.
You may also like