The Ethics of Group Psychotherapy: Principles and Practical Strategies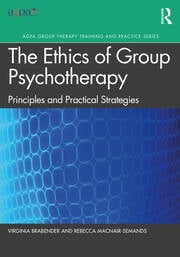 Book Details
Publisher : Routledge
Published : April 2022
Cover : Paperback
Pages : 178
Category :
Group Psychotherapy
Catalogue No : 96508
ISBN 13 : 9780367615611
ISBN 10 : 0367615614
Also by Virginia Brabender
The Ethics of Group Psychotherapy provides group psychotherapists with the ethical and legal foundation needed to engage in effective decision-making in their everyday group practices.
This text provides readers with a framework for understanding ethical dilemmas through a review of major models of ethical thinking, including principlism, feminism and the ethics of care, and virtue ethics. The authors use this foundation to explore those problems emerging most routinely in group practice, among which are safeguarding members' personal information, protecting members' autonomy, and helping members to process differences—particularly those related to privilege and oppression—in a way that furthers interpersonal relations and social justice. Throughout the text, practical tools such as using assessments to aid in member selection and tracking progress and outcome through measurement-based care are offered that bolster the group psychotherapist's effectiveness in ethical decision-making.
Featuring questions for discussion and items to assess the reader's master of the material, this text will be a valuable tool in classroom and small-group learning.
Reviews and Endorsements
"In this remarkably thoughtful and well-crafted textbook, Brabender and MacNair-Semands provide a most welcome and much-needed resource that is relevant to every group psychotherapist. They detail principles that promote ethical care in group psychotherapy and foster group therapists' deeply informed reflection on the ethical underpinnings of this work. Always of great value, the ethics of group psychotherapy has never been more important than it is in this era of great complexity, in which quality of care, social justice, race, racism and identity are prominent in all our therapy groups." - Molyn Leszcz, MD, FRCPC, CGP, DFAGPA, president, American Group Psychotherapy Association, professor of Psychiatry, University of Toronto.

"The Ethics of Group Psychotherapy is an outstanding book addressing a wide range of ethical and clinical issues that therapists are likely to encounter in group psychotherapy. Modules include illuminating examples, discussion questions, boxes highlighting important points, and vignette/role plays. It is clear that Virginia Brabender and Rebecca MacNair-Semands did extensive research. The references are amazing. This extremely well written and comprehensive book is essential for group psychotherapy leaders." - Linda K. Knauss, PhD, ABPP, professor, Institute for Graduate Clinical Psychology, Widener University.

"That group psychotherapy works is well documented; less is known however about its potential for harm and, as we've learned in this age of pandemics, both safety and efficacy are paramount when evaluating treatment interventions. In this up-to-date, comprehensive and clinician-friendly volume, Brabender and MacNair-Semands studiously cover those many ethical challenges that can arise in the complicated arena of group psychotherapy and offer useful safeguards for both novice and seasoned clinicians to minimize harm and optimize the autonomy and well-being of their clients." - Les R. Greene, PhD, past president, American Group Psychotherapy Association; clinical faculty, Yale University Department of Psychiatry.
About the Author(s)
Virginia Brabender, PhD, ABPP, is a professor in Widener University's Institute for Graduate Clinical Psychology. She has written five prior books on group psychotherapy and numerous articles.
More titles by Virginia Brabender
Rebecca MacNair-Semands, PhD, is a co-chair of the Science to Service Task Force for the AGPA Board of Directors. She authored the first edition of the Ethics of Group Psychotherapy.
You may also like