Family Therapy for Adolescent Eating and Weight Disorders: New Applications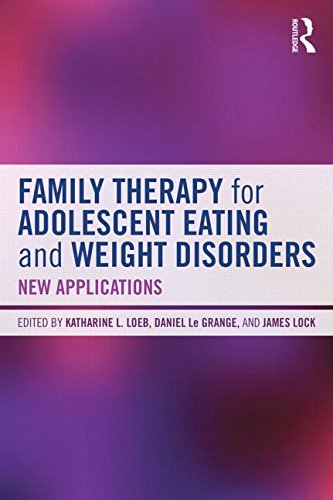 Also by Daniel Le Grange
Also by James Lock
Family-based treatment (FBT) for eating disorders is an outpatient therapy where parents are the main resource in treatment. The therapist supports the parents to do the work nurses would have done if the patient were hospitalized to a specialist inpatient-refeeding unit. Once starvation has been resolved, the parents are tasked to encourage the patient to resume adolescent development, unencumbered by the eating disorder. Recently, many new adaptations of the FBT intervention have been developed for addressing the needs of special populations. This book chronicles these novel applications of FBT in a series of chapters authored by the clinicians and investigators who are pioneering each adaptation.
About the Editor(s)
Daniel Le Grange, PhD, is Professor in the Department of Psychiatry and Behavioral Neuroscience and Director of the Eating Disorders Program at The University of Chicago. He trained at the Institute of Psychiatry, University of London, and was a member of the team at the Maudsley Hospital in London that developed family-based treatment for anorexia nervosa. He is the author of numerous research publications and received a National Institute of Mental Health (NIMH) Early Career Development Award. Dr. Le Grange is currently principal investigator for studies on treatment of both bulimia nervosa and anorexia nervosa.
More titles by Daniel Le Grange
James Lock, MD, PhD, is a child psychiatrist and Professor of Child Psychiatry and Pediatrics in the Division of Child and Adolescent Psychiatry and Child Development, Department of Psychiatry and Behavioral Sciences, Stanford University. He is the director of the Eating Disorders Program in the Division of Child Psychiatry and psychiatric director of an inpatient eating disorder program for children and adolescents at Lucile Salter Packard Children's Hospital at Stanford. The author of numerous scientific publications on eating disorders in youth, Dr. Lock is a recipient of the Price Family Foundation Award for Research Excellence from the National Eating Disorder Association, an NIMH Early Career Development Award, and an NIMH Mid-Career Development Award.
You may also like