Treatment Manual for Anorexia Nervosa: A Family-Based Approach: Second Edition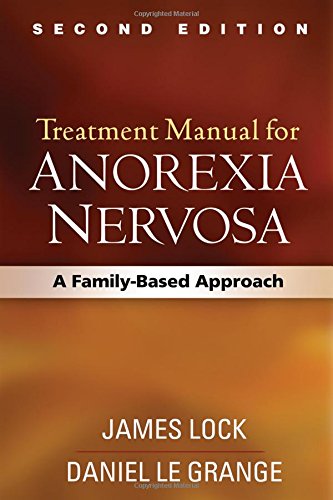 Book Details
Publisher : Guilford Press
Published : 2015
Cover : Paperback
Pages : 289
Category :
Eating Disorders
Catalogue No : 38203
ISBN 13 : 9781462523467
ISBN 10 : 1462523463
Also by Daniel Le Grange
Also by James Lock
This indispensable manual presents the leading empirically supported treatment approach for adolescents with anorexia nervosa (AN). What sets family-based treatment apart is the central role played by parents and siblings throughout therapy. The book gives practitioners a clear framework for mobilizing parents to promote their child's weight restoration and healthy eating; improving parent/n-/child relationships; and getting adolescent development back on track. Each phase of therapy is described in session-by-session detail. In-depth case illustrations show how to engage clients while flexibly implementing the validated treatment procedures.
This new edition:
*Reflects the latest knowledge on AN and its treatment, including additional research supporting the approach.
*Clarifies key concepts and techniques.
*Includes a chapter on emerging directions in training and treatment dissemination.
*Introduces many new clinical strategies.
About the Author(s)
James Lock, MD, PhD, is a child psychiatrist and Professor of Child Psychiatry and Pediatrics in the Division of Child and Adolescent Psychiatry and Child Development, Department of Psychiatry and Behavioral Sciences, Stanford University. He is the director of the Eating Disorders Program in the Division of Child Psychiatry and psychiatric director of an inpatient eating disorder program for children and adolescents at Lucile Salter Packard Children's Hospital at Stanford. The author of numerous scientific publications on eating disorders in youth, Dr. Lock is a recipient of the Price Family Foundation Award for Research Excellence from the National Eating Disorder Association, an NIMH Early Career Development Award, and an NIMH Mid-Career Development Award.
Daniel Le Grange, PhD, is Professor in the Department of Psychiatry and Behavioral Neuroscience and Director of the Eating Disorders Program at The University of Chicago. He trained at the Institute of Psychiatry, University of London, and was a member of the team at the Maudsley Hospital in London that developed family-based treatment for anorexia nervosa. He is the author of numerous research publications and received a National Institute of Mental Health (NIMH) Early Career Development Award. Dr. Le Grange is currently principal investigator for studies on treatment of both bulimia nervosa and anorexia nervosa.
You may also like