Treating Bulimia in Adolescents: A Family-Based Approach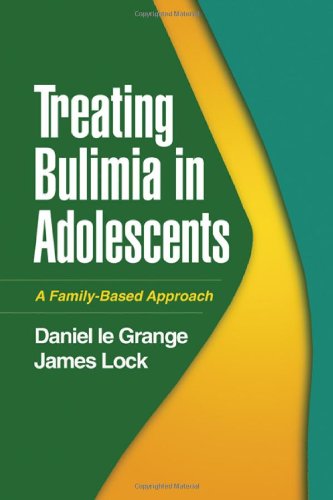 Also by Daniel Le Grange
Also by James Lock
See catalogue number 29105 for the paperback edition. An indispensable clinical resource, this groundbreaking book is the first treatment manual to focus specifically on adolescent bulimia nervosa. The authors draw on their proven approach to treating anorexia nervosa in the family context and adapt it to the unique needs of this related yet distinct clinical population. Evidence-based strategies are presented for helping the whole family collaborate to bring dysfunctional eating behaviors under control, while also addressing co-occurring psychological problems and parent-child relationship conflicts. Highly practical, the book shows exactly how to carry out this time-limited therapy and what to do when problems arise. Special features include annotated session transcripts and answers to frequently asked questions.
About the Author(s)
Daniel Le Grange, PhD, is Professor in the Department of Psychiatry and Behavioral Neuroscience and Director of the Eating Disorders Program at The University of Chicago. He trained at the Institute of Psychiatry, University of London, and was a member of the team at the Maudsley Hospital in London that developed family-based treatment for anorexia nervosa. He is the author of numerous research publications and received a National Institute of Mental Health (NIMH) Early Career Development Award. Dr. Le Grange is currently principal investigator for studies on treatment of both bulimia nervosa and anorexia nervosa.
More titles by Daniel Le Grange
James Lock, MD, PhD, is a child psychiatrist and Professor of Child Psychiatry and Pediatrics in the Division of Child and Adolescent Psychiatry and Child Development, Department of Psychiatry and Behavioral Sciences, Stanford University. He is the director of the Eating Disorders Program in the Division of Child Psychiatry and psychiatric director of an inpatient eating disorder program for children and adolescents at Lucile Salter Packard Children's Hospital at Stanford. The author of numerous scientific publications on eating disorders in youth, Dr. Lock is a recipient of the Price Family Foundation Award for Research Excellence from the National Eating Disorder Association, an NIMH Early Career Development Award, and an NIMH Mid-Career Development Award.
You may also like