Getting Better Bit(e) by Bit(e): Survival Kit for Sufferers of Bulimia Nervosa and Binge Eating Disorders: Second Edition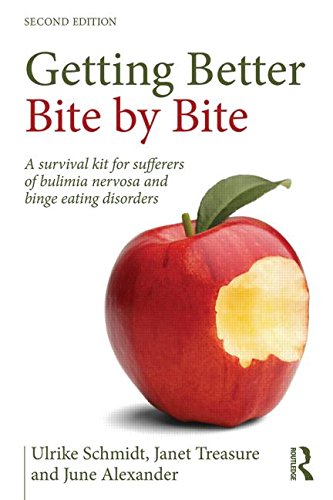 Book Details
Publisher : Routledge
Published : 2015
Cover : Paperback
Category :
Eating Disorders
Catalogue No : 37048
ISBN 13 : 9781138797376
ISBN 10 : 1138797375
Also by Ulrike Schmidt

Also by Janet Treasure
Also by June Alexander
An essential, authoritative and evidence-based self-help programme that has been used by bulimia sufferersfor over 20 years. This new edition maintains the essence of the original book, while updating its content for today's readers, drawing on the latest knowledge of the biology and psychology of bulimia and its treatment. The book provides step-by-step guidance for change based on solid research. The use of everyday language, stimulating contemporary case study story-telling and evocative illustrations in Getting Better Bite by Bite provide encouragement, hope and new perspectives for all readers.
This handy-sized book fills a need for easy-to-understand information about Bulimia Nervosa, a serious and prevalent eating disorder. Ulrike Schmidt and Janet Treasure are world-renowned researchers and authorities on eating disorders, and June Alexander, a former sufferer of anorexia and bulimia, is a respected writer and internationally-known eating disorder awareness advocate. Getting Better Bite by Bite is a valuable resource - for sufferers, for their families, and for the health professionals and carers treating them.
About the Author(s)
Ulrike Schmidt is Professor of Eating Disorders at King's College London and a Consultant Psychiatrist at the Maudsley Hospital. One key focus of her research is on developing brief scalable psychological treatments of value to the NHS, for people with eating disorders and other common mental health problems, including self-harm.
You may also like