Couch Fiction: A Graphic Tale of Psychotherapy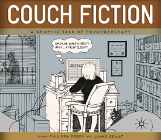 Book Details
Publisher : Palgrave
Published : January 2010
Cover : Paperback
Pages : 152
Category :
Reprinting
Category 2 :
Individual Psychotherapy
Catalogue No : 29568
ISBN 13 : 9780230252035
ISBN 10 : 0230252036
Paperback
£21.63
This item is reprinting. You may pre-order a copy and we will send it out when it becomes available.
Free delivery worldwide
This title has been delisted and is no longer available to purchase
What is it like to be a fly on a psychotherapist's wall? This compelling case study in the form of a graphic novel vividly explores a year's therapy sessions as a search for understanding and truth. Told in a witty and thought-provoking manner, each engagingly illustrated scene is accompanied by deft commentary.
Based on Pat (a sandal-wearing, cat-loving psychotherapist) and her new client, James (an ambitious barrister with a potentially harmful habit he can't stop), this graphic novel explores the therapeutic journey, unveiling a range of counselling skills, insights and techniques along the way.
Reviews and Endorsements
'I loved it. I smiled and laughed. And nodded. One to read for sure.'
- Susie Orbach, author and columnist

'...set to capture the attention of the capital's culture vultures.'
- Evening Standard

'Funtastic: How therapy works with all the fun of a cartoon.'
- Oliver James, clinical psychologist, author and broadcaster

'Philippa Perry has succeeded brilliantly in demystifying the complexities of the psychotherapeutic encounter by demonstrating not only something about the private conversations which transpire in the consulting room, but also by revealing the hidden thought processes in the mind of both the client and the psychotherapist. Her beautifully illustrated book Couch Fiction: A Graphic Tale of Psychotherapy will be essential reading for anybody contemplating therapy, and would make an ideal gift for friends and colleagues.'
- Professor Brett Kahr, Senior Clinical Research Fellow in Psychotherapy and Mental Health at the Centre for Child Mental Health, London, and Honorary Visiting Professor at Roehampton University

'The charming pictures show psychotherapy working; the witty and brilliant notes explain how and why.'
- Dr Stella Tillyard, author of Aristocrats

'It is a rare thing to find such an informative and accessible book. Recommended as a good way to get a picture of what happens in psychotherapy.'
- Diana Shmukler, Visiting Professor of Psychotherapy, Middlesex University, and formerly Associate Professor of Applied Psychology, University of Witwatersrand, South Africa
About the Author(s)
Philippa Perry is a psychotherapist, psychotherapy supervisor and a fine art graduate living and practising in London. She is married to the artist Grayson Perry.
You may also like