Teaching the World to Sleep: Psychological and Behavioural Assessment and Treatment Strategies for People with Sleeping Problems and Insomnia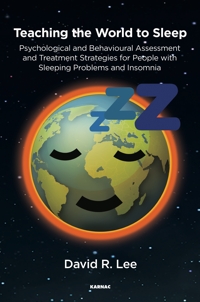 Book Details
Publisher : Routledge
Published : November 2016
Cover : Paperback
Pages : 220
Category :
Individual Psychotherapy
Catalogue No : 37358
ISBN 13 : 9781782203452
ISBN 10 : 1782203451
Sleep problems are ubiquitous in the modern world, significantly impacting on quality of life, mental health, and performance at work and at home. More significantly, sleep problems accompany almost every mental health condition and are a significant driver in the development and maintenance of poor mental health. This book describes the current state of knowledge on the science of sleep, covering the various forms of insomnia and parasomnia that abound, before discussing the variety of assessment and treatment options available to the healthcare practitioner.
Further discussion of psychological and behavioural interventions is made with particular reference to a new, second-generation Cognitive Behavioural Therapy for insomnia, how this is an effective treatment modality, and how it can be applied with clients presenting with more complex physical and mental health conditions. The final chapter presents the range of theories as to the purpose and function of dreams and dreaming, and how 'dream-work' has been applied in the therapeutic setting.
The aim of this book is to empower healthcare professionals with new up-to-date knowledge on the assessment, treatment, and management of sleep problems (an area so often neglected in every health-related training course), and to assist them with their clients who do not sleep well. The book is also written for the interested insomniac, to help them with their own sleep, or the sleep of their loved-ones. The purpose of this book is to spread the word about sleep and how it can be improved and optimised: to teach the world to sleep.
Reviews and Endorsements
'A compendium of everything there is to know about sleep. Clear, concise and comprehensive, this is an exceptionally useful resource for clinicians working in a variety of settings.'
—Dr Penny Trayner, chartered and clinical psychologist

'This impressive and comprehensive text will be of great interest to health professionals and to members of the general public who are looking for a deeperunderstanding of the mysteries of sleep, its disorders and how they can be managed effectively. Dr Lee's expertise and comfort with this important topic shines through each chapter.'
— Prof Colin A. Espie, BSc, MAppSci, PhD, DSc, FBPsS, CPsychol, CSci, Professor of Sleep Medicine, Senior Research Fellow, Somerville College

'Teaching the World to Sleep is a valuable resource for poor sleepers and parents, but it is also an essential text for psychologists, and any other professional whohas to consider sleep as a priority, and who wishes to learn about neurobiological and psychological difficulties with sleep. It promotes sleep as an essential part of human wellbeing that is as important as exercise in developing physical health. This compelling text has much to offer in teaching the world to sleep.'
— Dr James Tonks, PhD, Consultant Clinical Psychologist and Consultant Paediatric Neuropsychologist, Honorary Lecturer at the University of Exeter MedicalSchool, and Visiting Fellow in Paediatric Neuropsychology and Neuroscience at the School of Psychology, University of Lincoln
About the Author(s)
Dr David Lee, BSc, PhD, CertEd, CPsychol, AFBPsS, CSci, is a bio-psychologist who has been researching, publishing, teaching and treating all aspects related to sleep, especially the sleep of more vulnerable groups, over the last sixteen years. He is Clinical Director of Sleep Unlimited Ltd., a company which specialises in training healthcare professionals, treating individuals with insomnia, engaging with companies to provide sleep services for their human resources divisions, and providing expert assessment and treatment reports and expert witness testimony for the Court.
You may also like