Childhood, Well-Being and a Therapeutic Ethos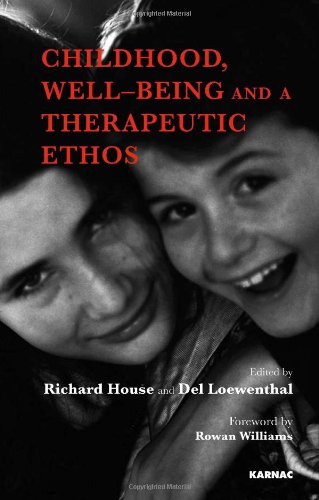 Book Details
Publisher : Routledge
Published : 2009
Cover : Paperback
Pages : 274
Category :
Child and Adolescent Studies
Catalogue No : 26852
ISBN 13 : 9781855756335
ISBN 10 : 1855756331
Also by Richard House
Also by Del Loewenthal
A key theme of this book is that we urgently need a therapeutic ethos in order to bring both educational and therapeutic sensibilities to bear on the issue of children's wellbeing, if truly effective and appropriate policy responses to the current malaise are to be fashioned. Not least, we must pay particular attention to childhood experience, showing that scientific and technical developments are always secondary to the resources of the human soul, if we are to minimize the extent to which today's children will need therapy as adults. This will entail moving beyond narrowly mechanistic definitions of, and ways of thinking about, "well-being" and the psychological therapies. This book offers pointers to the kinds of arguments that can inform what is rapidly becoming a central concern of politicians and policy-makers.
A unique book in the field, Childhood, Well-being and a Therapeutic Ethos will be core cross-disciplinary reading in a range of academic and training contexts, including within Education, Psychology and Sociology departments, on early childhood studies and policy studies modules and degrees, and on child and other psychotherapy and counselling trainings.
Reviews and Endorsements
With a foreword by the Archbishop of Canterbury.

All is clearly not well with children's well-being in the Anglo-Saxon West, as witnessed by a steady stream of research reports that place children's well-being in the UK and the USA very near, if not at, the bottom of international tables. This mounting cultural and political concern for children's well-being has been buttressed by high-profile media interest in the "toxic childhood" theme popularized by author Sue Palmer, and highlighted in the Open Letter published by the Daily Telegraph; and the chapters in this important new book arose directly from the addresses given by prominent Open Letter signatories to an expert seminar organized by Roehampton University's Research Centre for Therapeutic Education in December 2006.

'No-one can now ignore the fact that a serious debate about the welfare of children has at last begun in our society. And, appropriately, it has started to open up a wider debate about the nature of learning and even the nature of human maturity. The essays in this collection are significant not only for what they say about childhood but for what they invite us to think about human growth and wellbeing in general.'
- Dr Rowan Williams, The Archbishop of Canterbury

'This is a timely and extremely interesting book comprising a series of essays by well-known writers and researchers, including the two authors. A foreword by the Archbishop of Canterbury, Dr Rowan Williams, sets the tone of the book.
The book is divided into four parts. The first has three essays, including one by Sue Palmer expanding on her theme of a 'toxic childhood', and Bob Reitemeier discusses the recent Children's Society inquiry. Christopher Clouder looks at the challenge of modern childhood and 'our common human sense of responsibility'.
The second section includes Sue Gerhardt's reminder of the importance of infant experiences. Section Three takes a more therapeutic stance, with an extremely interesting and challenging essay by Kathyrn Eccleston. Section 4 is devoted to the importance of play, with some case study examples of the roots of playfulness.
There is a huge amount of both information and reflection within each of the chapters by the various authors, all of whom are prominent in their respective fields, and so this book will prove a very useful resource to a wide range of both practising professionals and students. It is not an especially easy read, but is rewarding and thought-provoking.'
- Reviewed by Dr Maria Robinson, early years consultant and author

'The essays in this timely book are a real treasure chest of goodies, which bring different perspectives to the issue of children's well being and what a therapeutic ethos can bring. They will provoke more debate and discussion, and I hope research.'
- Martin Large, Hawthorn Press

About the Author(s)
Richard House Ph.D. is Senior Lecturer in Psychotherapy, Counselling and Counselling Psychology at Roehampton University's Research Centre for Therapeutic Education (RCTE), and a trained Steiner Kindergarten and Class Teacher.
Del Loewenthal is Professor of Psychotherapy and Counselling, and Director of the Research Centre for Therapeutic Education, at the University of Roehampton where he also convenes Doctoral programmes. He is an analytic psychotherapist, chartered psychologist and photographer. He is founding editor of the European Journal of Psychotherapy and Counselling. He is chair of the Universities Psychotherapy and Counselling Association and former founding chair of the UK Council for Psychotherapy Research committee. He also has a small private practice in Wimbledon and Brighton.
You may also like