Cézanne and the Post-Bionian Field: An Exploration and a Meditation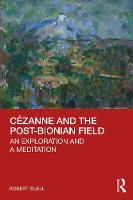 Book Details
Publisher : Routledge
Published : December 2020
Cover : Paperback
Pages : 158
Category :
Psychoanalysis
Catalogue No : 95451
ISBN 13 : 9780367645472
ISBN 10 : 9780367645
Also by Robert Snell
By inviting a 'conversation' between them, this book offers a nuanced introduction both to Cezanne-the 'father of modern art'-and perhaps the most vital body of theory in contemporary psychoanalysis, 'post-Bionian field theory', as it has been evolving in Italy in the hands of Antonino Ferro, Giuseppe Civitarese, and others.
Cezanne and Bion, each insisting on his own truths, spearheaded quite new directions in painting and in psychoanalysis. Both point us towards a crucial insight: far from being isolated, self-contained 'subjects', we fundamentally exist only within a larger interpersonal 'field'. Cezanne's painting can give us a direct experience of this. For the Italian field analysts, building on Bion's work, the field is accessed through reverie, metaphor, and dream, which now come to occupy the heart of psychoanalysis. Here primitive 'proto-emotions' that link us all might be transformed-as Cezanne transformed his 'sensations'-into aesthetic form, into feelings-linked-to-thoughts that in turn enrich and expand the field.
The book draws on the words of artists (Cezanne himself, Mann), philosophers (Merleau-Ponty, Bergson), art historians and theorists (Clark, Smith, Shaw), as well as psychoanalysts (Bion, Ferro, Civitarese, and others), and it is the first to focus on one particular-and seminal-painter as a way of exploring this aesthetic and 'field' dimension in depth and detail. Aimed at psychoanalysts, psychotherapists, artists, art historians, and the general reader, it suggests how far art and contemporary psychoanalysis are mutually generative.
Reviews and Endorsements
'In Cezanne and the Post-Bionian field: An Exploration and a Meditation, the author succeeds in conveying the idea of a living, "multiversal" field by bringing together elements pertinent to the field concept in painting, philosophy and literature, and by providing them with a space where they can breathe together. The fascination of the book lies in the way it constructs novel pathways and tools for exploring a temporal space in perpetual expansion. The structure of the field can be expressed in different languages, each bound by its own stockade that someone, like our author, has dared to break down, resulting not in chaos but in the suggestion of new concepts. Whilst reading Robert Snell's work, I was struck over and over again by his extraordinary capacity to juxtapose Cezanne's visual concepts with Bion's oneiric models and field theory. I cannot overstate the value of this extraordinarily fecund meeting between art and psychoanalysis.' - Antonino Ferro, President of the Italian Psychoanalytic Society, training and supervising analyst in the Italian Psychoanalytic Society, the American Psychoanalytic Association, and the International Psychoanalytical Association.


'The reading of this book absorbed me. I really admired Robert Snell's writing style and the skill of the composition -the transitions from one perspective to the other, so as to always keep the reader's attention. The book shows a deep understanding of the Italian theory of the analytical field, and creates a perfect interplay of reflections and resonances between this theory, Cezanne and Merleau-Ponty. All three come out of it enriched, because each one is reflected in the other two (not to mention Bergson, Ogden and many others). It is a beautiful book.' - Giuseppe Civitarese, Psychiatrist and training and supervising analyst of the Italian Psychoanalytic Society, member of the of the American Psychoanalytic Association, editor of the Rivista di Psicoanalis and author of Sublime Subjects, Aesthetic Experience and Intersubjectivity in Psychoanalysis.
About the Author(s)
Robert Snell is an analytic psychotherapist, a member of the British Psychotherapy Foundation, and an Honorary Senior Research Fellow in the Centre for Therapeutic Education at Roehampton University. He has a doctorate in the history of art from the Courtauld Institute, and is the author of Théophile Gautier: A Romantic Critic of the Visual Arts, co-author with Del Loewenthal of Postmodernism for Psychotherapists: A Critical Reader), and author of Uncertainties, Mysteries, Doubts. Romanticism and the Analytic Attitude.
You may also like