Building Resilience to Trauma: The Trauma and Community Resiliency Models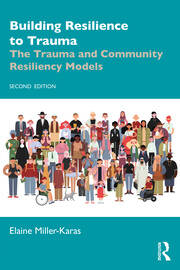 Book Details
Publisher : Routledge
Published : March 2023
Cover : Paperback
Pages : 308
Category :
Trauma and Violence
Catalogue No : 97085
ISBN 13 : 9780367681708
ISBN 10 : 9780367681
Also by Elaine Miller-Karas
During and after a traumatic experience, survivors experience a cascade of physical, emotional, cognitive, behavioral, relational, and spiritual responses that can make them feel unbalanced and threatened. The second edition of Building Resilience to Trauma explains common responses from a biological perspective, reframing the human experience from one of shame and pathology to one of hope and biology. Using two evidence-informed models of intervention that are trauma-informed and resiliency-informed—the Community Resiliency Model (CRM) and the Trauma Resiliency Model (TRM)—chapters distill complex neuroscience into understandable concepts and lay out a path for fostering short- and long-term healing.
CRM develops natural leaders who share wellness skills throughout communities as primary prevention, and TRM focuses on training mental health professionals to reprocess traumatic experiences. Studies have demonstrated that the models' use leads to significant reductions in depression and anxiety, and both models also lead to increases in well-being. The models restore balance after traumatic experiences and can be used as tools to cultivate well-being across cultures and abilities throughout the lifespan.
Program cosponsors have included the United Nations, Emory University's Center for Contemplative Science and Compassion-Based Ethics, the Victims and Survivors Network of Northern Ireland, PACES Connection, the International Transformational Resilience Coalition, the Adventist Disaster Relief Agency International, Wake County School System, and the State of Washington Police Commission.
Reviews and Endorsements
"Elaine Miller-Karas's second edition of Building Resilience to Trauma is a genuine act of empowerment. So many people have a lived experience of poor mental health through trauma, and she brings tools and hope to the many trying to manage and cope with these difficult and frightening sensations. Loud and clear we learn that we can do something about trauma if we follow the modeling she outlines clearly and concisely. I am proud to call Elaine a friend and her warmth and care shine through to empower us all!" - Chris Underhill, MBE (Order of the British Empire), Skoll Foundation social entrepreneur, senior fellow with Ashoka Worldwide.

"As we face a global pandemic, violent conflicts that threaten world peace, impending climate catastrophe, and the inevitable tragedies that follow from these events, it's hard to imagine a more urgent time to learn and share Elaine Miller-Karas's revolutionary approach to cultivating resilience in the face of trauma. Now updated with insights about bringing these down-to-earth techniques to the systems level and scaling them to larger populations, this second edition promises to strengthen our collective will to bounce back from trauma and to make these basic human skills more accessible and available to all who need them. Which is to say, each one of us." - Timothy Harrison, associate director for Cognitively Based Compassion Training, Center for Contemplative Science and Compassion-Based Ethics, Emory University.

"We heartily recommend Building Resilience to Trauma. We have been friends and students of Elaine's for over a decade. We include elements from the community and trauma resiliency models in everything that we offer around the world. Elaine is a manifestation of courageous compassion and great generosity. She is a creative innovator in the wellness revolution. Her models are pragmatic useful tools that provide trauma recognition and healing into our natural resilience." - Larry Ward, author of America's Racial Karma, coauthor with Peggy Rowe Ward of Love's Garden, and codirector of The Lotus Institute.
About the Author(s)
Elaine Miller-Karas, LCSW, is co-founder and director of innovation of the Trauma Resource Institute and adjunct faculty at Loma Linda University. She is an author, lecturer, consultant, radio show host, Psychology Today blogger, trauma therapist, and social entrepreneur.
You may also like