Attachment and Adult Clinical Practice: An Integrated Perspective on Developmental Theory, Neurobiology, and Emotional Regulation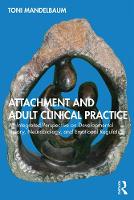 Book Details
Publisher : Routledge
Published : October 2020
Cover : Paperback
Pages : 244
Category :
Neuroscience
Category 2 :
Attachment Theory
Catalogue No : 95288
ISBN 13 : 9780367548537
ISBN 10 : 9780367548
This comprehensive volume addresses attachment theory's history as well as its integration with neurobiology, psychophysiology, theories of emotion, regulation theory, and mentalization theory. It explores how clinicians can connect with their clients so that they feel completely seen and heard.
Attachment theory speaks to one's biological drive to connect, to relate, and to feel heard. The author aims to achieve this by condensing the enormous and diverse literature of the field into a singular, manageable work that clinicians can use to foster these connections. The book traces the history of attachment theory and describes how neurobiological research has influenced the expansion of attachment theory, and how emotions and psychophysiology have become critical to our understanding of human attachment connections. It concludes with a detailed examination of how to apply these theories in clinical practice.
This practical book addresses attachment theory's take on integrating the mind, body, and emotion when striving toward well-being. It will be of great importance for psychotherapy students, beginning therapists, and experienced clinicians with an interest in attachment theory.
Reviews and Endorsements
"This comprehensive text is unique in reviewing over 50 years of Attachment Theory, from Bowlby's conceptualization of infant-caregiver dyads, extending through the lenses of social, developmental and biological psychology and neuroscience research, and culminating in applications in adult relationships and clinical practice. The final chapters masterfully draw together all theoretical and empirical strands explored in preceding chapters. The clear prose and wide-ranging advanced content make it both accessible to students and essential reading for experienced clinicians. Highly recommended!" - Flora Hoodin, PhD, Adjunct Associate Professor of Psychiatry, University of Michigan, Professor Emerita, Eastern Michigan University.

"This book is required reading for anyone who is interested in obtaining in-depth information regarding attachment theory, research, and clinical practice. It includes a major body of research in neuroscience and human development. Definitely a great source to understand how attachment informs and affects many aspects of our lives." - Ting Liu, PhD, President, the Asian Association for Emotionally Focused Couple and Family Therapy and Clinical Director, Philadelphia Center for Emotionally Focused Therapy.

"Toni Mandelbaum has done the lord's work by bringing together the many strands that have been woven together into attachment theory. The result illuminates its foundational importance for the way we are and for the way we are in relationships. She has provided a comprehensive understanding of attachment theory's clinical relevance with regards to relationships, affect regulation, the formation of the self and, most of all, the importance of connection. A real contribution and a must-read for anyone wishing to bring attachment theory into their way of working." - Daniel Hill, PhD - Author of Affect Regulation Theory: A Clinical Model, Professor, The NYU Postdoctoral Program in Psychoanalysis and Psychotherapy and The National Institute of Psychotherapies.
About the Author(s)
Toni Mandelbaum, PhD, LCSW is a clinical social worker in private practice in Philadelphia, PA, with over 25 years of experience in the field. She completed her BA in psychology at the University of Pennsylvania, her MSW at Columbia University, and her PhD in social work at Bryn Mawr College.
You may also like