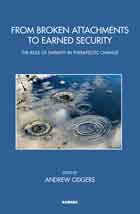 Book Details
Publisher : Routledge
Published : August 2014
Cover : Paperback
Pages : 160
Category :
Attachment Theory
Catalogue No : 35064
ISBN 13 : 9781782201052
ISBN 10 : 178220105X
The 2011 John Bowlby Memorial Conference, 'From Broken Attachments to Earned Security - The Role of Empathy in Therapeutic Change', focused on what needs to take place to facilitate empathy and attunement and ultimately the achievement of earned security. The confernce posed the challenge of how to re-establish a secure sense of self, mutuality, and the capacity for inter/intra-subjectivity when difficulties in empathy and attunement exist as a result of relational trauma. This can be between parent and child, within adult relationships, between client and therapist, or in organisational contexts.
The outstanding collection of papers in this volume make a significant contribution to the field of attachment and our understanding of how child rearing affects each aspect of our lives, from the interpersonal to the organisational and societal. Each paper moves beyond the academic and theoretical to provide answers to the many difficult questions raised at the conference.
The practical, sometimes step-by-step explanation of the use of empathy in one-to-one clinical work, in health service organisations or society generally, offer a positive and hopeful way forward. All of the presenters faced up to the challenges of repairing or reversing the impact of derailed attachments and the toxic impact of trauma, offering a realistic but hopeful route to improved relating and healthier attachments.
This publication will be a valuable resource for students, seasoned practitioners, and health service professionals alike who want to enhance their understanding of empathy and attachment in this demanding field.
Subject areas covered by your book in order of importance and key subject area:
- causes of insecure attachments
- impact of relational trauma
- how to re-establish a secure sense of self
- working one to one and in organisational settings
Contributors: Sandra L. Bloom, Sue Gerhardt, Jane Haynes, Oliver James, Andrew Odgers, Anastasia Patrikiou, Eleanor Richards, Kate White
Reviews and Endorsements
'Empathy and attachment security, although natural bedfellows, make surprisingly few appearances together in the literature. So it is a delight to find the two of them sharing star billing in this excellent monograph. Six talented authors write about their own ideas and practices around the themes of empathy and earned security. Throughout, we are treated to wise words and compelling cases. If you want your commitment to the healing power of the human relationship renewed, then look no further than this fine collection.'
— David Howe, Emeritus Professor, University of East Anglia, Norwich

'Is empathy the elixir for psychotherapy? Or, is it just a cosy ideal of mothering and being nice? How does it differ from sympathy, Einfühlung, or feeling onseself into the life of another? How does it help those in psychological distress? These and many other questions are addressed by this collection of papers from the eighteenth annual conference of the Bowlby Centre. As always, the perspective offered by this group inspired by attachment theory is wide-ranging and profound, based on close experience of working with people in distress. Altogether, this book is an eye-opener – a valuable resource for students, seasoned practitioners, and health-service professionals alike.'
— Dr Tirril Harris, Institute of Psychiatry, Kings College London
About the Editor(s)
Andrew Odgers studied psychology at university in South Africa, and trained as a psychotherapist when he moved to London over twenty years ago. He is a UKCP registered attachment-based psychoanalytic psychotherapist, having trained at the Institute for Self Analysis which grew into the Bowlby Centre of today. He has taught and facilitated professional development seminars at the Bowlby Centre. Andrew now works as a management consultant and focuses on leadership development, working with management teams, and exploring their development issues and team dynamics. He is also an executive coach.
You may also like