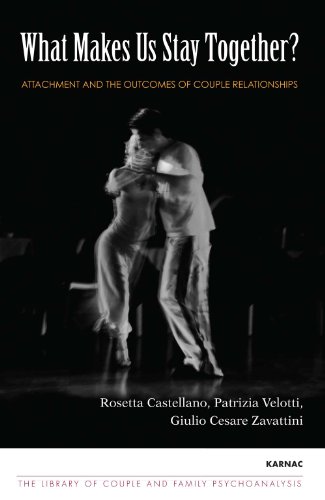 Also by Giulio Cesare Zavattini
In recent years commentators have speculated on the "collapse" of the couple and the family, highlighting the increasing fragility of couple relationships making them vulnerable to crises and break ups. Now, more than ever, and prompted by changes that have shaken our assumptions about socio/cultural context, the reasons that make couple relationships unstable are sought in the negotiations and redefinitions required by the changes themselves. New types of families are emerging and consequently new issues are being raised about the dynamics of family relationships.
This book underlines the role of attachment as a central motivational system in couple relationships, and focuses on the relationship between past and present experiences in determining choices, perceptions, and feelings in couple relationships. It considers what other motivational systems interact with attachment in constituting a couple's dynamics, and looks at aspects more directly experienced by couples: in particular, how they feel about their relationship, especially in terms of the degree of intimacy between them (something that attachment theorists might look at in evaluating how "good" a relationship is). The authors focus their attention on the outcomes of relationships as seen from the perspective of attachment theory and after a brief overview of the main conclusions reached on this topic, a new view of the couple dynamic is proposed in order to identify various possible outcomes.
Reviews and Endorsements
'This is a masterful, comprehensive, wonderfully clear, and theoretically sophisticated clinical journey around couple relationships. Attachment theory is rarely made as relevant to clinical understanding as in this volume.'
— Peter Fonagy, PhD, FBA, Professor and Head of the Research Department of Clinical, Educational and Health Psychology, University College London

'Based on attachment theory, the authors write with great clarity about the dynamics of couple relationships. This is a highly readable and meticulously researched book that I will be recommending to all practitioners involved in couple work and as an excellent teaching aid. Its appeal will also extend to anyone wishing to further their understanding of how and why we maintain our emotional bonds over time. I thoroughly enjoyed reading it and it kept me thinking long after I had put it back on the shelf.'
— Antonino Ferro, President of the Italian Psychoanalytical Society (SPI) and member of the American Psychoanalytic Association

'This excellent book is an accessible, well-written, wise account of the virtues and vicissitudes of couple relationships from an attachment perspective. Drawing on the latest research, it delineates marriage's principal dimensions – distance/ closeness, emotion regulation, sexuality, attachment-seeking, and care-giving – and how the rhythms of connection, disconnection, and reconnection typify intimate relationships. These themes are then deployed to analyse marital violence, infidelity, jealousy, and sexual difficulties, and the healing powers of forgiveness. The text is convincingly illustrated with clinical material and helpful diagrams. It will be essential reading for couple therapists, psychotherapists generally, those interested in the clinical applications of attachment, and indeed anyone wishing for illumination on the mysteries of marriage.'
— Professor Jeremy Holmes, MD, FRCPsych, University of Exeter, and author of The Search for the Secure Base
About the Author(s)
Rosetta Castellano received both her PhD degree in Dynamic, Clinical and Developmental Psychology and her PsyD in Clinical Psychology from Sapienza University, Rome. She has also attended the Institute of Self Psychology and Relational Psychoanalysis (ISIPSÉ) in Rome, and is a member of the AAPI and the International Self Psychology Roster. Her research interest is focused on attachment, psychotherapy, and infant research. She is currently in private practice in Avellino and Naples (Italy), specializing in adult psychoanalysis and mother-infant treatment.
Patrizia Velotti, PhD, PsyD, is an assistant professor in the Department of Educational Sciences at University of Genoa, where she teaches Adult Psychopathology. She received both her PhD degree in Dynamic, Clinical and Developmental Psychology and her PsyD in Clinical Psychology from the University of Rome ("Sapienza"). She was trained as a Group Analyst by the Confederation of Italian Organizations of Analytical Group Research, and is a member of the International Association of Group Psychotherapy and Group Processes. Her work is grounded in attachment theory, motivational systems theory, self and interactive regulation, and dyadic systems theory. She is the editor of Bonds That Make Us Suffer, and the author of numerous articles and chapters.
Giulio Cesare Zavattini is Full Professor in couple assessment and clinical intervention; Lecturer in psychoanalytic psychotherapy; a member of the of the Italian Psychoanalytic Society (SPI) and International Psychoanalytical Association (IPA); a Member of the British Society of Couple Psychotherapists and Counsellors (BSCPC) and of the International Association of Couple and Family Psychoanalysis (IACFP). He is also a member of the Society for Research in Child Development, and the International Advisory Board of the Journal of Couple and Family Psychoanalysis. His work has largely focused on the integration of psychodynamic theoretical and clinical work with empirical research strategies primarily in the areas of object relationships and attachment.
You may also like