To Be Met as a Person at Work: The Effect of Early Attachment Experiences on Work Relationships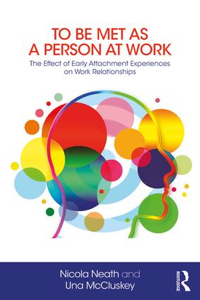 Also by Una McCluskey
Our Customers Average Rating
Read all reviews (1)





This book provides an account of how the 'Theory of Attachment-Based Exploratory Interest Sharing' (TABEIS) and the practice of Goal Corrected Empathic Attunement (GCEA) was used in a university setting to support staff.
It works in three ways; firstly, it raises attachmentt theory, one of the pillars of self-understanding, into a central place in terms of reflecting on and learning from the dynamics of business and organisations. Neath explores how well this attachment theory sits with other theories of self and relationships such as transactional analysis and the person-centred approach.
Secondly, it is an account of how Neath took an application of McCluskey's theory 'The McCluskey Model for Exploring the Dynamics of Attachment in Adult Life' to the University of Leeds, with learning points made along the way, exploring the practice of a therapeutic-style of group facilitation, and reflection on good practice for professional adult learning and teaching techniques.
Thirdly, it will act as handbook for anyone wishing to replicate Neath's work and it includes feedback from the participants both during and after the training process. It will appeal to those new to training, counselling, organisational developers and those wishing to enjoy and see the potential the work of McCluskey.
About the Author(s)
Nicola Neath graduated from York University in English and Philosophy in 1991 and began training as a psychotherapist in 2006, and she has been working with Universities since then. Neath started as a trainee psychotherapist with a Student Counselling Service on a trainee placement, and remained with this service over five years while becoming accredited. She developed her own private practice, counselling, training and coaching with The Baobab Centre, working with various large public and smaller private organisations. This work deepened her skills and a separate opportunity arose to work with an internal Staff Counselling and Psychological Support Service in 2011. This was a chance to synthesise all that she had learnt so far and to build upon her experiences. Neath was supported by the head of the service Sally Rose who suggested she might be interested in the work of McCluskey.
Una McCluskey graduated from University College Dublin, did her professional social work training at the University of Edinburgh, and got her PhD from the University of York. She has written extensively on individuals, couple, family and group systems, and has developed her own model for exploring attachment dynamics in adult life. Her research on affect attunement in adult psychotherapy led her to develop a theory of interaction for psychotherapy and particularly to identify and rate the concept of goal corrected empathic attunement. Throughout the last ten years she has been providing courses for workers and experienced professionals in the field of psychology, psychotherapy, social work, medicine, organisational management and development, education, nursing, art therapy, legal practice, religious and pastoral carers, to enable them explore their own dynamics of attachment in adult life as outlined by the work of Heard and Lake and to check its application to their personal and work life.
Customer Reviews
Our customers have given this title an average rating of 5 out of 5 from 1 review(s), add your own review for this title.
Heather Swinsco on 13/02/2019 08:57:12





(5 out of 5)
I would recommend this book to anyone with an interest in organisational culture, especially those who wish to use theory to inform their practice. As an HR professional, I found that it has helped me to structure my thinking about how best to incorporate an understanding of emotion into my casework. I have used a number of the ideas to help me to work through complex employment situations with staff and their managers. For example, I have used these ideas to help managers and staff recognise the way in which fear can heavily influence behaviours in the workplace, in order to manage such situations more effectively, which can be a scary thing in itself for staff, managers and HR professionals alike. I think that using the ideas that Nicola Neath expresses in this text will help us to practice a more compassionate form of HR and management, which will benefit organisations and employees alike.
You may also like