Assessment in Couple Therapy: Navigating the 7 Cs of Relationships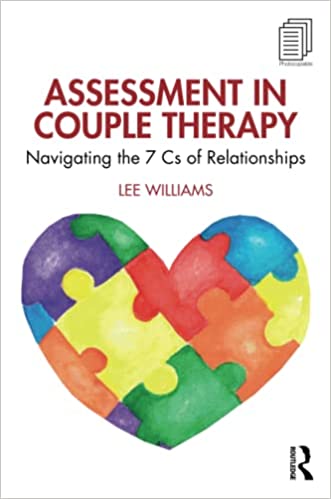 Also by Lee Williams
This innovative text offers a simple but comprehensive framework for couple assessment that integrates research and information on couples from a wide range of models.
Using the 7 Cs as a basis for guiding assessment, chapters move through key areas of couple functioning including communication, conflict resolution, culture, commitment, caring and sex, contract, and character. An additional chapter on children also offers insights into assessment of couples who parent. Offering a broad and accessible framework that can be applied to a variety of theoretical perspectives, the book highlights how the 7 Cs can be used to inform both assessment and treatment of couples. Numerous case examples are interwoven throughout the text to demonstrate how therapists may utilize this approach to work with a diverse client base.
Written in an accessible style, Assessment in Couple Therapy is an essential tool for students of marriage and family therapy and beginning therapists, as well as seasoned mental health professionals working with couples in a range of settings.
Reviews and Endorsements
"Lee Williams has provided a marvelous resource for couple therapists and couple therapists in training. Building on the foundation of a simple structure, the 7 C's, Williams orients the reader to each of the most essential aspects of couple assessment. Strongly anchored in evidence-based methods and in a broad integrative view of couple assessment, this book provides a comprehensive yet highly coherent way of understanding couple relationships. This book should be a part of every course in couple therapy and a part of every couple therapist's library." - Jay Lebow, PhD, ABPP, LMFT, Family Institute at Northwestern, Family Process Editor.

"Thorough assessment is a crucial part of effective therapy with couples. Lee Williams has done masterful work in providing a critically needed book on dyadic assessment. In this well-written and engaging book, Lee clearly describes the 7 C's assessment approach, an evidence-informed and transtheoretical framework. Lee walks the novice clinician through each assessment component – assessment structure, content areas to explore, challenges with couples, and using assessment to inform interventions. This book is essential reading for all students in training as well as seasoned couple therapists." - Adrian Blow, PhD, Professor at Michigan State University.
About the Author(s)
Lee Williams, PhD, is a professor of marital and family therapy at the University of San Diego, where he has taught since 1993. He is a licenced marriage and family therapist and clinical fellow at AAMFT (American Association of Marriage and Family Therapy).
You may also like