Clinician's Guide to Research Methods in Family Therapy: Foundations of Evidence-Based Practice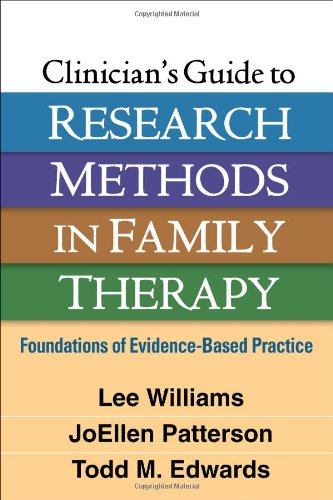 Also by JoEllen Patterson
Also by Lee Williams
A research methods text with a unique focus on evidence-based practice with couples and families, this book bridges the divide between research and clinical work. The text offers comprehensive, user-friendly coverage of measurement and design issues and basic qualitative and quantitative methods. Illustrating research concepts with clinically relevant examples and sample studies, it teaches clear steps for evaluating different types of studies and identifying common threats to validity. Of special value to therapists, it provides a systematic framework for using research to guide the selection and evaluation of interventions that meet the needs of particular clients.
Pedagogical features:
* End-of-chapter Applications sections showing how to evaluate specific methods.
* Appendices with quick-reference guides and recommended resources.
* Instructive glossary.
About the Author(s)
Lee Williams, PhD, is a professor of marital and family therapy at the University of San Diego, where he has taught since 1993. He is a licenced marriage and family therapist and clinical fellow at AAMFT (American Association of Marriage and Family Therapy).
JoEllen Patterson, PhD, LMFT, is Professor in the Marital and Family Therapy Program at the University of San Diego. She is also Associate Clinical Professor of Family Medicine, Global Health, and Psychiatry at the University of California, San Diego, School of Medicine. Dr. Patterson has published five books that have been translated into multiple languages, and has served on the editorial boards for journals including Families, Systems, and Health; Family Process; and the Journal of Marital and Family Therapy. Dr. Patterson received a Rotary International Scholarship to work at Cambridge University, as well as three Fulbright Awards to work in Norway, Hong Kong, and New Zealand. Her global work includes initiatives in Jordan and Ecuador.
More titles by JoEllen Patterson
Todd M. Edwards, PhD, LMFT, is Professor in the Marital and Family Therapy Program at the University of San Diego. He is also Voluntary Assistant Clinical Professor in the Department of Family Medicine and Public Health at the University of California, San Diego, and Visiting Professor at NOVA University in Lisbon, Portugal. Dr. Edwards is a Clinical Member and Approved Supervisor in the American Association for Marriage and Family Therapy and an editorial board member for the American Journal of Family Therapy and the Journal of Family Psychotherapy.
You may also like