Help Yourself Towards Mental Health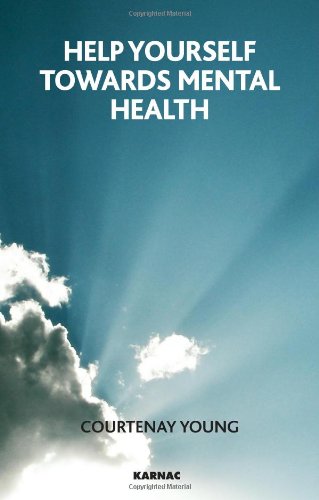 A comprehensive guide to how an individual can help themselves resolve a wide variety of ordinary, everyday life problems and improve their mental health.
'This is an extensive collection of self-help material, which has been written to provide resources to complement self-exploration or professional counselling. The knowledge has been built up through years of working in the field of mental health, listening to patients, and searching for the materials that could make a difference. The skill is in how the handouts have been put together to be easily accessible and helpful, and in a format that allows flexibility and tailoring to the individual. The attitude of current evidence-based guidelines is to support a range of self-help approaches and talking therapies to enable people to achieve better mental health, rather than turning to drugs. This is therefore a most welcome tool from which patients will benefit, and indeed, we could all use to help us achieve a better life/work balance and feeling of well-being.'
- Dr Patricia Donald, MBE
Reviews and Endorsements
'Courtenay Young presents a contemporary view of therapy and counselling as accessible and relevant and not distant or precious. The book will interest seasoned professionals and students alike. It will also be a significant addition to the self-help mental health literature.'
- Andrew Samuels, Professor of Analytical Psychology, University of Essex

'All too often, treatment and referral has been a haphazard affair for a patient who comes to a GP or primary carer with common psychological problems. This book by Courtenay Young could change this dramatically. It provides a combination of a few simple diagnostic tests and a lot of self-help handouts, geared closely to what GPs are actually confronted with. The detailed instructions for combining these in decision making at the first stages of treatment are laid out with great clarity in a way that will bring a much needed structure to the whole process.'
- Arthur Still, PhD, FBPsS, Counselling Psychologist

CONTENTS
ABOUT THE AUTHOR
INTRODUCTION
A definition of mental health; Stepped care and self-help
STRESS
Basic information; Self-help for stress; Stress and modern life; Fitting exercise into your life; Different types of exercise; Relaxation; Meditation and mindfulness; Symptoms of stress; Other anti-stress exercises; Stress and life events
DEPRESSION
Self-help for depression; Working with depression; Foods for depression; Somatic aspects of depression; Different views of depression; Emotional expression in depression; Basic working principles for depression; A bit about anti-depressant drugs; Negative emotions; Thoughts and moods in depression; Thinking distortions in depression; Common irrational belief systems; How to change your negative thinking
THE PROCESS
Your inner process; Points to remember
ANXIETY
About anxiety; Relaxation; Social anxiety; Panic attacks; Working with panic attacks; Phobias; General anxiety disorder
SELF-ESTEEM ISSUES
Introducing issues of self-esteem; Improving self-esteem; Becoming more assertive
WHAT WORKS?
An overview of what works; Self-awareness; Legitimate needs; Asserting yourself; Responding to criticism
FAMILY ISSUES
Bereavement and grieving; Having to care for others; Information for carers and families; Parents at home, parents at work; Relationship issues; Relationship difficulties; Divorce and separation
OTHER ISSUES
Anger management; Sleep issues; Problems at work; Weight, body image, and eating issues; Chronic fatigue syndrome; Twelve-step programmes; Trauma and post traumatic stress disorder; Self-harm; Money worries; Ageing issues; Travel
WELL-BEING
Natural health; The path to mental health; The road to change; Wider and different perspectives
SOURCES OF INFORMATION
REFERENCES
About the Author(s)
Courtenay Young is a humanistic, transpersonal and body-oriented psychotherapist, who has worked in a wide variety of different ways and in different situations in the mental health field over the last twenty-five years. He was resident psychotherapist at the Findhorn Foundation, an international spiritual community located in north-east Scotland, for over seventeen years, and now works privately, and in the NHS, as a psychotherapist and counsellor in and around Edinburgh and the Scottish Borders.
You may also like