Working With Relationship Triangles: The One-Two-Three Of Psychotherapy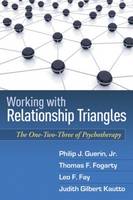 Book Details
Publisher : Guilford Press
Published : January 2010
Cover : Paperback
Pages : 252
Category :
Family, Couple and Systemic Therapy
Catalogue No : 29849
ISBN 13 : 9781606239179
ISBN 10 : 1606239171
This groundbreaking book provides clinicians with a hands-on guide to working with many different kinds of relationship triangles in therapy with families, couples, and individuals.
Reviews and Endorsements
'This text takes triangles, a concept central to structural and multigenerational family therapy, to the next level of theoretical refinement and clinical usefulness. Easy to read, rich with clinical examples, I recommend it highly to therapists of all persuasions.'
- Salvador Minuchin, Minuchin Center for Family Therapy, New York, USA

'The volume's specific guidelines for clinical management will be extremely helpful to any therapist working with individuals, dyads, and/or families. Every chapter contains enormously useful case illustrations gleaned from the many years of clinical experience of the well-known and highly respected practitioner authors.'
- Mary Ann Quaranta, Former GSS Dean, Fordham University, New York, USA

Contents:
Nichols, Series Editor's Note. Relationship Triangles: Evolution of the Concept. The Relevance of Triangles in Clinical Context. Addressing Triangles in Therapy. The Structure of Relationship Triangles. Emotional Process within Triangular Structure. The Interaction of Structure, Process, and Function. Introducing Triangles in Individual Therapy. Coaching and Direct Intervention with Triangles in Individual Therapy. Extrafamilial Triangles in Marital Conflict. Marital Triangles within the Family. Child and Adolescent Triangles. Symptomatic Child and Adolescent Triangles within the Family. Conclusion: Becoming a "Triangle Doctor."
You may also like