Working Below the Surface: The Emotional Life of Contemporary Organizations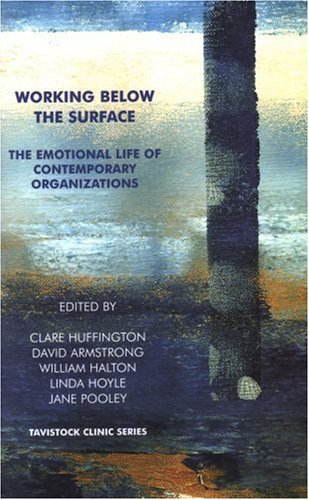 Book Details
Publisher : Routledge
Published : 2004
Cover : Paperback
Pages : 272
Category :
Organisational Psychology
Catalogue No : 17704
ISBN 13 : 9781855752948
ISBN 10 : 1855752948
Also by David Armstrong
Also by Clare Huffington

Our Customers Average Rating
Read all reviews (1)





The chapters contributed to this book have been written by the staff and associates of The Tavistock Consultancy Service, whose distinctive competence is in the human dimension of enterprise and the dynamics of the workplace. The intention is to identify and explore some of the key themes that have emerged, such as the emotional world of the organisation and the dynamics of resistance to change, and how these affect and influence the understanding of leadership and management in contemporary organizations. No attempt is made to reach a consensus, but rather to raise and map out a territory of continuing question and debate.
Contributors:
David Armstrong; Andrew Cooper; Tim Dartington; William Halton; Sharon Horowitz; Linda Hoyle; Clare Huffington; Kim James; Sarah Miller; Anton Obholzer; Jane Pooley; and Nick Temple.
Part of the Tavistock Clinic Series.
Reviews and Endorsements
'This is a book for people who are serious about understanding what really goes on in organisations, not at the superficial level of so many business books, but "below the surface". It gives insight into the fragmentation of organisational life, and explores the impact on individuals' emotions, inter-personal relationships, the culture and the relationship between these levels. The blending of simple real-life examples of the coaching work TCS have done, with theoretical frameworks from the worlds of psychoanalysis, systems thinking and group dynamics, helps the reader to relate it back to their own organisation without losing the power of the academic/scientific theory.'
- Martyn Wilks, European Vice President, Personnel and Organisation, Mars Incorporated

'Read this book! The members of the Tavistock Consultancy Service are building a new psychodynamic framework for consulting in networked world. They are asking how individuals build relationships when work is temporary and organizations transitory. They define the enterprise as a passionate and enlivening setting that remains psychologically whole even when the organization changes. And lastly, through their rich and varied case studies they explore how a consultant helps a client respond creatively in the face of necessary losses and irreducible uncertainty. A wonderful menu, a satisfying meal.'
- Larry Hirschhorn, Principal, Centre for Applied Research (CFAR), Philadelphia, USA and author of Reworking Authority: Leading and Following in a Post-Modern Age
About the Editor(s)
Clare Huffington is a freelance organizational consultant and executive coach and was, until early 2007, the Director of the Tavistock Consultancy Service in London. She is a clinical psychologist and worked as an educational psychologist, university lecturer, and family therapist before beginning to work with larger systems as an organizational consultant.
More titles by Clare Huffington
William Halton is Principle Consultant at the Tavistock Consultancy Service and chair of the Consulting to Institutions Work-shop. He has consultations and coaching experience in the public and private sectors and a special interest in mediation work, development programmes and group relations conferences. He has a background in child and adult psychotherapy.
David Armstrong is an Associate Consultant at Tavistock Consulting. He trained as a social psychologist at the Tavistock Institute of Human Relations and worked in action research and organisational consultancy at the University of London and The Grubb Institute before returning to the Tavistock in 1994 to join a newly established consultancy service at the Tavistock Clinic. A Distiguished Member of the International Society for the Psychoanalytic Study of Organisations, he is the author of Organization in the Mind: Psychoanalysis, Group Relations and Organizational Consultancy.
More titles by David Armstrong
Jane Pooley is Principle Consultant at the Tavistock Consultancy Service and runs her own organizational consultancy practice. She is Director of the executive coaching training programme at TCS. She is a qualified family psychotherapist. Her publications and work reflect her interest in social development initiatives and she specializes in executive coaching and team and organizational development programmes.
Customer Reviews
Our customers have given this title an average rating of 5 out of 5 from 1 review(s), add your own review for this title.
Elio Vera on 25/04/2005





(5 out of 5)
Very useful for consulting organisations with the need to better get the business goals and their mission.

Elio Vera
Consultant at CESMA Milan, Italy
You may also like