Who Owns Psychoanalysis?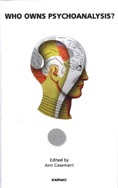 Book Details
Publisher : Routledge
Published : 2004
Cover : Paperback
Pages : 414
Category :
Psychoanalysis
Catalogue No : 18555
ISBN 13 : 9781855753709
ISBN 10 : 1855753707
Also by Ann Casement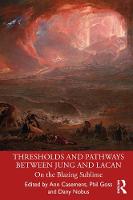 So who does own psychoanalysis? Equally pertinent, what is psychoanalysis? Even before the death of Sigmund Freud, psychoanalysis was splintering into different groups, each convinced of their superiority to the other. There was little co-operation between them plus a great deal of resentment, recrimination and suspicion. The status quo has been evolving slowly in recent years, with increased tolerance and communication between the different factions, leading to the birth of this book.
The result is an international and inter-group collaboration of eminent psychoanalysts and scholars of psychoanalysis discussing and reflecting on the meaning psychoanalysis holds for them. Their contributions have been grouped into four sections: academic, historical, political and scientific. Each paper is varied in its subject matter, looking at such issues as psychoanalytic ownership, the genealogy of the word "psychotherapy", historical perspectives on the situation, whether there can be a monopoly on psychoanalysis, and the role of the brain in relation to the mind, and has been grouped according to its main theme.
The result is a provocative, challenging and stimulating read for professionals, training candidates, students and laypeople with an interest in psychoanalysis. An important contribution to this long-standing debate that should not be missed.
Contributors:
Jorge L. Ahumada; Pearl Appel; Bernard Burgoyne; Ann Casement; Frank Cioffi; Morris Eagle; Peter Fonagy; Adolf Grünbaum; R.D. Hinshelwood; Pearl King; Darian Leader; Dany Nobus; Michael Pokorny; Paul Roazen; Elisabeth Roudinesco; Sonu Shamdasani; Mark Solms; Thomas Szasz; Mary Target; and Jerome Wakefield.
About the Editor(s)
Ann Casement is a training analyst at the Association of Jungian Analysts, London, which she represents on the IAAP executive committee. She is also a member of the British Psychological Society, The National Association for the Advancement of Psychoanalysis, and a founding member of The International Neuro-Psychoanalysis Society. She has conducted research into statutory regulation at the University of London and has written for The Economist and professional journals.
You may also like