Whiteness and White Privilege in Psychotherapy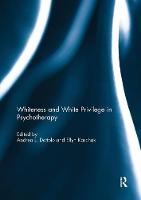 Book Details
Publisher : Routledge
Published : January 2019
Cover : Paperback
Pages : 204
Category :
Individual Psychotherapy
Catalogue No : 95056
ISBN 13 : 9781138393943
ISBN 10 : 9781138393
This unprecedented, interdisciplinary collection focuses on gender, whiteness, and white privilege, and sheds light on this understudied subject matter in the context of clinical psychology, in both theories and applications.
Psychologists, especially therapists, are often trained to look for issues that are not readily visible, cannot be spoken, and that are commonly taken for granted. Feminist and multi-cultural researchers and practitioners further seek to expose the power structures that benefit them or that unfairly advantage some groups over others. Whiteness has been investigated by sociologists and critical race theorists, but has been largely overlooked by psychologists and psychotherapists, even those who deal with feminist and multi-cultural issues. This volume explores the ways in which gender, whiteness and white privilege intersect in the therapy room, bringing to light that which is often unseen and, thus, unnamed, while examining issues of epistemology, theory, supervision, and practice in feminist therapies.
The various contributions encompass theory, history, empirical research, personal reflections, and practical teaching strategies for the classroom. The authors remind us that whiteness and other forms of privilege are situated among multiple other forces, structures, identities, and experiences, and cannot be examined alone, without context.
You may also like