Leadership and the Ethics of Influence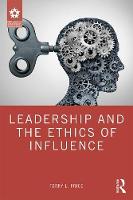 Book Details
Publisher : Routledge
Published : March 2020
Cover : Paperback
Pages : 208
Category :
Organisational Psychology
Catalogue No : 94924
ISBN 13 : 9781138327658
ISBN 10 : 1138327654
How do leaders influence others? Although they sometimes appeal directly to good reasons, which we associate with rational persuasion, leaders also use guilt, pressure, flattery, bullying, and rewards and punishment-all to get the behaviors that they want. Even when leaders refrain from outright lying, they are nevertheless known to practice something approaching, perhaps reaching, the level of manipulation. Influence therefore presents a serious ethical problem across leadership contexts.
Leadership and the Ethics of Influence argues that influence puts leaders at risk of using people. It is generally disrespectful of autonomy to figure out what makes people tick in an effort to handle them. In contrast with physical force, influence works through agency, not around it. Despite this feature of influence-and, to a large extent because of it-the everyday influence associated with leadership is often morally troublesome. What matters morally is not only whether agency is bypassed or overridden but also who is ultimately in control. This book uses philosophy and leadership studies to show how leaders across different contexts can be justified in getting followers to do things.
Connecting moral theory to leadership theory, and especially to charismatic leadership, authentic leadership, transforming leadership, and ethical leadership, this book is essential reading for leadership scholars, students, and practitioners.
You may also like