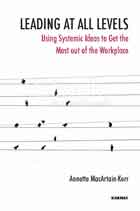 Book Details
Publisher : Routledge
Published : August 2018
Cover : Paperback
Category :
Organisational Psychology
Catalogue No : 37635
ISBN 13 : 9781782203797
ISBN 10 : 1782203796
This is an innovative text which aims to make systemic ideas available to a wider market for the first time. A central theme is to get maximum benefit out of the workplace. These ideas will appeal also to systemic trainees, practitioners and systemic consultants and to those in related professions as well as to personal development practitioners and coaches.
This book is divided into three sections: on work and leadership, on problem solving and finally on approaches to leading at all levels. In accessible language it offers a bottom up and a top down perspective. For non managers it addresses the pre occupations of workers and of being managed, while suggesting practical solutions and ways to minimise stress and take control of one's work environment. From the perspective of managers, it offers insights into the dilemmas of management and argues that there is much to be gained by facilitating the knowledge already in the workforce to increase organisational performance. This makes for a happier workforce and less pressure on managers to have all the answers.
Traditional problem solving is challenged and an approach which embraces complexity is preferred. Solutions are suggested to problems which arise in everyday workplace situations drawing on examples from a variety of work environments.
You may also like