What To Do If the Mind Does Not Develop: A Psychoanalytic Study of Pervasive Developmental Disorders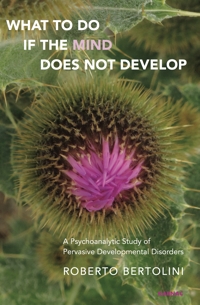 Book Details
Publisher : Routledge
Published : January 2017
Cover : Paperback
Pages : 296
Category :
Child and Adolescent Studies
Catalogue No : 37970
ISBN 13 : 9781782204039
ISBN 10 : 1782204032
The result of three decades of psychoanalytic work with children and adolescents, this book takes a fresh and empathic look on the pervasive developmental disorders in childhood and adolescence, describing their many manifestations through the presentation of particularly representative clinical cases, in pages of high scientific rigour but also of simple and poetic language.
What To Do if the Mind Does Not Develop speaks both to the specialist and researcher and to the reader who is simply interested in the topic, thanks also to a glossary of the more difficult technical terms. The text offers valuable psychoanalytic observations on the cognitive and emotional difficulties of these patients that may help physicians, teachers, and parents to develop a better and deeper understanding of their true psychology.
Reviews and Endorsements
'Reading this book has provided a much-needed injection of faith in the future of our discipline, and it is well known how scarce this opportunity has become at a time when psychoanalytical thinking has been transformed into something that frequently departs from what our teachers in the 1960s and 1970s conveyed through their admirable inspiration and sensitivity, so that at times the core values of psychoanalysis become unrecognisable. This volume encompasses an impressive body of knowledge that has been accumulated throughout the author's life and is didactic, consistent, articulate, sensitive, and intelligent.'
- Dr Alberto Hahn, from the Preface
About the Author(s)
Roberto Bertolini has a degree in medicine and specialized in neurology at the Catholic University in Rome and in Child Psychotherapy at the Tavistock Clinic in London, where he was for many years a visiting teacher for the program 'Work with disruptive adolescents'. He is a teacher of the Scuola Quadrenniale in Child Psychotherapy of the Centro Studi Martha Harris in Florence, and tutor of the Tavistock model Courses in Observational Studies and Child Mental Health in Italy. He conducts training and clinical supervision for operators of mental health and social services. He is also the author of a number of books on child development and primitive psychopathology.
You may also like