What Freud Didn't Know: A Three-step Practice for Emotional Well-being Through Neuroscience and Psychology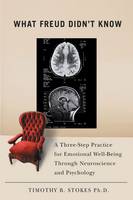 Book Details
Publisher : Rutgers U.P.
Published : January 2010
Cover : Hardback
Pages : 224
Category :
Neuroscience
Category 2 :
Popular Psychology
Catalogue No : 29269
ISBN 13 : 9780813546407
ISBN 10 : 0813546400
In a thoughtful and down-to-earth way, Timothy B. Stokes overturns old formulas - and many Freudian concepts - for achieving personal change. During one's lifetime, hidden memories, along with their misleading assumptions, can unconsciously trigger conflicted feelings - the basis for most psychological problems, large and small. What Freud Didn't Know, well-supported by research and groundbreaking in theory, combines neuroscience and psychology to explain how the amygdala region of the brain evolved to unconsciously record, store, and activate emotional memory loops and imagery associated with painful events, especially those of childhood.
This book is the first to bring together diverse, post-Freudian discoveries to produce a coherent three-step practice for understanding problematic aspects of the human mind which can be mastered easily, in a clinical or self-help setting. Stokes explores recent breakthroughs, many in marked contrast to Freud's views, which will change how we view psychological and emotional problems and their treatments. Grounded in current theories about brain circuitry, What Freud Didn't Know integrates ideas about mindfulness, habitual thinking, and insight imagery and provides readers with the tools to rescript their personal narratives for psychological well-being. As an alternative approach to treating stress, most types of depression, anxiety, and phobias without prescription drugs, Stokes three-step practice can be used to build resiliency and inner peace.
Reviews and Endorsements
The book offers an overview of the Three-Step Practice for Mastering Amygdala Scripts: Step 1: Mindfulness and the Emotion Component of a Script; Step 2: Insight and the Image Component; and, Step 3: Changing the Belief Component.
You may also like