Effective Short-Term Counselling within the Primary Care Setting: Psychodynamic and Cognitive-Behavioural Therapy Approaches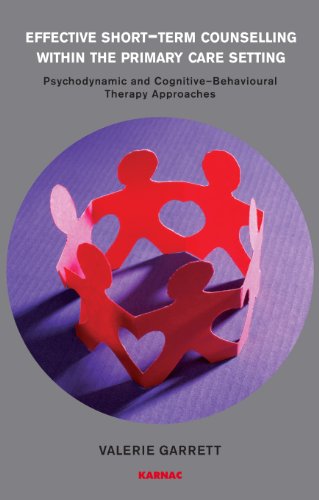 This book covers two distinct yet related topics: the primary care setting and the counselling carried out within it, and it can be dipped into or read straight through.
Part One, using psychodynamic and systems theory, explores the holding environment of primary care, the interpersonal relationships within the primary care team, and other variables affecting counselling in a medical organisational setting.
Part Two takes the counsellor through the 'how' of using psychodynamic and Cognitive-Behavioural Therapy (CBT) approaches within short-term contracts in this setting. Case studies and scenarios are given to illustrate these. The counsellor is guided through assessing the patient's counselling needs either within a psychodynamic or CBT model or to formulate a 'tailor-made' short-term contract, using elements drawn from psychodynamic, CBT, and supportive counselling.
Reviews and Endorsements
'I am delighted with this book - it acknowledges the privileged position of the Primary Care counsellor to make a clinical decision, based upon a clear rationale, to use either a psychodynamic or CBT approach, or to adapt and integrate them to meet the individual needs of the patient.'
- Pat Seber, Past Chair of the Faculty of Healthcare Counsellors and Psychotherapists (FHCP)

'This thoughtful and comprehensive book, written by a counsellor with a good deal of experience in the field, will provide a useful resource for the many counsellors attached to GP surgeries, covering as it does valuable information on the practice setting and on how to adapt psychodynamic and CBT approaches to the short-term counselling which is usually on offer. Primary care counselling is one of the most accessible psychological therapies available free to a wide range of people, which makes it especially important that the counsellors who provide it have access to books which help them to develop a clear focus for their work.'
- Val Potter, past Chair of the British Association of Counselling and Psychotherapy (BACP)

'The opening chapters were like a shot of adrenaline. Written in clear concise terms. Every aspect of primary care work is addressed: the benefits of different theoretical approaches (psychodynamic and CBT), and what happens from the moment the counsellor first walks through the door to the end of a patient contract.'
- Oriana Johnson, Therapy Today March 2011 Vol. 22/Issue 2
About the Author(s)
Valerie Garrett has twenty-five years' experience in counselling and has worked as a primary care counsellor for five years. She now supervises counsellors working in that setting. Throughout this time she has encountered human suffering across every part of the socio-economic spectrum, age and personality type.
You may also like