Book Details
Publisher : Routledge
Published : January 1995
Cover : Paperback
Pages : 142
Category :
Psychoanalysis
Catalogue No : 826
ISBN 13 : 9780415135153
ISBN 10 : 041513515X
Also by Anna U. Dreher
Also by Joseph Sandler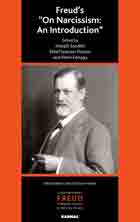 An examination of the aims and objectives of psychoanalysis and what the discipline is really attempting to achieve.
Reviews and Endorsements
In What Do Psychoanalystst Want? the authors look at the way psychoanalysts have defined analysis on both sides of the Atlantic, decade by decade, from Freud down to the present day. From this basis they develop a theory about aims which is extremely relevant to clinical practice, in which they discuss the issues from the point of view of the conscious and unconscious processes in the psychoanalyst's mind. Besides presenting a concise history of psychoanalysis which will be of interest to a wide audience, this book makes important points for any analyst concerned to research his or her own practice.
About the Author(s)
Joseph Sandler qualified as a psychoanalyst in the British Psychoanalytical Society. He was the Freud Memorial Professor of Psychoanalysis in the University of London and Director of the Psychoanalysis Unit at University College London, and in private practice in London. He was formerly the first Sigmund Freud Professor of Psychoanalysis at the Hebrew University of Jerusalem, Editor of the International Journal of Psychoanalysis and the International Review of Psychoanalysis, and was President of the International Psychoanalytical Association.
Anna Ursula Dreher trained as a psychoanalyst in the German Psychoanalytic Association. After working at the Social Psychological Research Centre of the University of Saarbrucken, she spent six years at the Sigmund Freud Institute, Frankfurt, and was involved in research on psychoanalytic concepts. She is now in private practice in Frankfurt, and lectures in psychoanalysis and psychology at the universities of Hanover and Giessen.
You may also like