Unlocked: Online Therapy Stories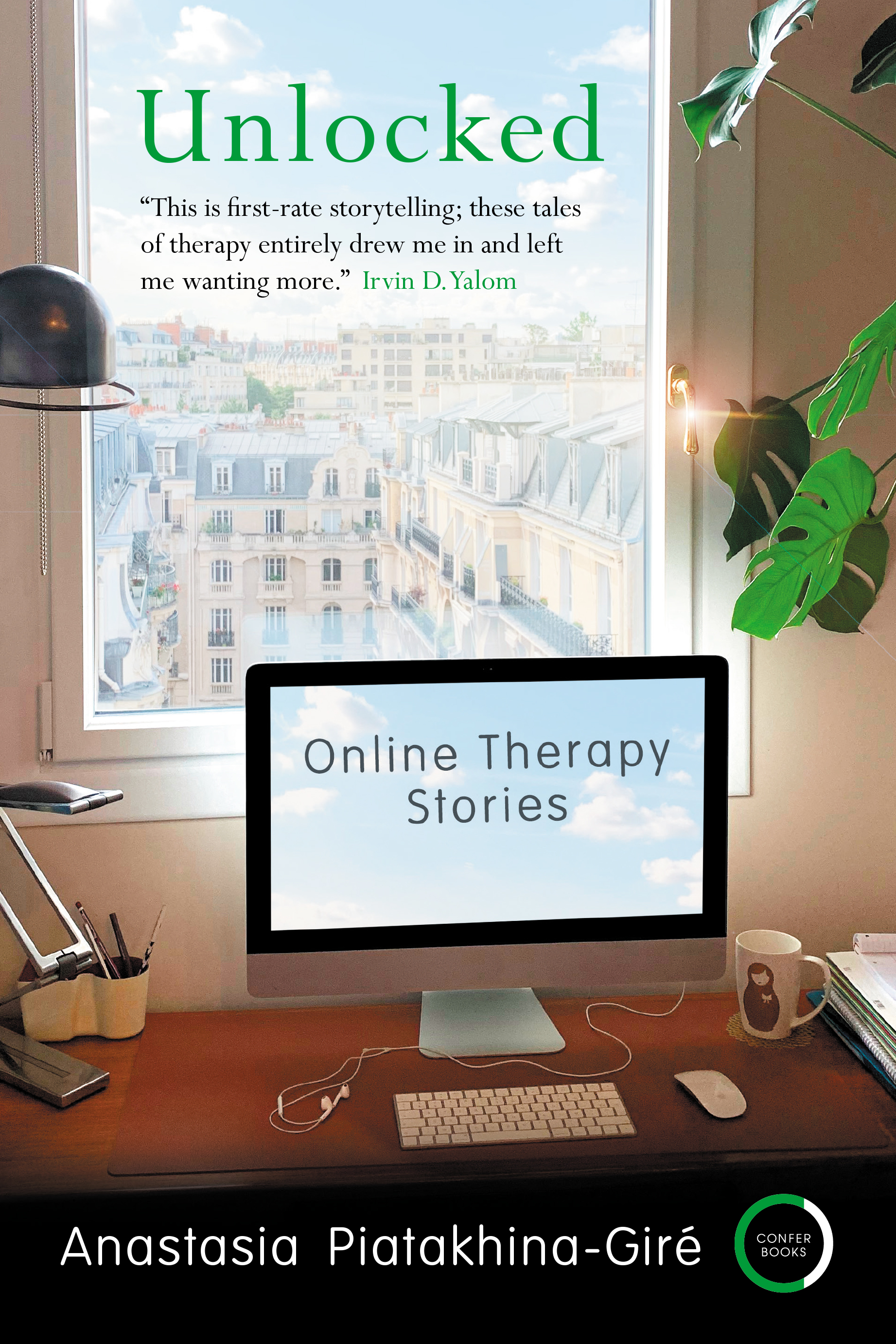 Book Details
Publisher : Karnac Books
Published : January 2022
Cover : Paperback
Pages : 276
Category :
Individual Psychotherapy
Catalogue No : 95813
ISBN 13 : 9781913494421
ISBN 10 : 9781913494
Also by Anastasia Piatakhina Giré
"Unlocked is an exquisitely compassionate and riveting window into our hearts and minds that will leave you thinking about these patients, yourself, and the lives of those you love long after you read the last word. The beauty of our messy humanity and the hope for redemption shine through on every page." - Lori Gottlieb, New York Times bestselling author of Maybe You Should Talk To Someone: A Therapist, Her Therapist, and Our Lives Revealed.
Unlocked tells the stories of ten different people in therapy in various cultural and geographical contexts – from Saudi Arabia to Venice or New York. Each narrative explores a unique presenting situation and uncovers the complexities of the therapeutic experience. All therapeutic work described in this book happens online. Inspired by real client sessions, the therapist narrator and the clients' stories are fictionalised.
Rather than presenting a barrier, Unlocked demonstrates how a curious and skilled therapist can make the most of the unexpected gifts that the 'screen' offers - be it the intrusion of a pet, a parent breaking into the session, or a client taking her therapist for a ride outside. Therapeutic conversations that happen on the screen have a surprising close-up quality; these stories convey the renewed intimacy and intensity of such practice and present new possibilities for the therapeutic process. They will be of interest not only to therapists who are transitioning their practice online but also to those considering therapy or curious about the therapeutic process.
Reviews and Endorsements
This is first-rate storytelling; these tales of therapy entirely drew me in and left me wanting more. A most impressive debut collection.
Irvin D. Yalom, M.D., Professor Emeritus of Psychiatry, Stanford University

This rich compilation of riveting, international online therapy tales prove that barriers and boundaries can be traversed by a skilled and caring clinician. A multilingual and courageous émigré and explorer, Piatakhina Giré offers no less than a dynamic clinical travelogue during the height of a global pandemic. Despite great distances, both psychological and geographic, her storytelling unlocks the mysteries of the human experience directly from the heart of psychotherapy.
Lawrence Rubin, PhD, ABPP, Psychotherapist and Editor of Psychotherapy.net

A brilliant guide to therapy during the pandemic – or at any time. Piatakhina Giré is a master therapist and writer. She offers fascinating illustrations of an online therapist working with clients from all over the world. Unlocked reads like a suspense novel, but the thoughtful, respectful and profound interventions are just enough to help clients free themselves from the circumstances that have locked them up.
Monica McGoldrick, Director of the Multicultural Family Institute, New Jersey and Professor of Clinical Psychiatry at the Robert Wood Johnson Medical School

Beyond revealing how distance therapy thrived in surprising ways during worldwide lockdowns, these wise stories bring to life the unexpected richness of online psychotherapy – unique sources of therapeutic insight offered by visual cues and physical intrusions from a patient's 'virtual' life. More profoundly, Piatakhina Giré shows how unconscious shame locks down so many of us; she models how an insightful, sensitive therapist may help them to break free of it, whether in person or online.
Joseph Burgo, Ph.D., Clinical Psychologist and author of Building Self-Esteem: How Learning from Shame Helps Us to Grow

With an undoubted storytelling ability, [Giré] takes us into the world of the therapist, accompanying her as she journeys with each of these clients. [...] It is a very readable book. Giré writes beautifully, and very visually, and it is easy to imagine her clients as they appear to the therapist on the screen. I would recommend this book to anyone curious about how relational therapy supports transformation and healing, and especially if you are concerned that online work may not be adequately relational.
Katharine Graham, integrative psychotherapist, New Psychotherapist
Table of Contents
Dedication
Prologue

1. Laila, Riyadh, Saudi Arabia
2. Jane, London, United Kingdom
3. Alan, Manhattan, United States
4. Anna, Venice, Italy
5. JP, Brussels, Belgium
6. Alice, London, United Kingdom
7. Claudio, Rome, Italy
8. Elena, New Jersey, United States
9. Claire, Paris, France
10. Philip, Northumberland, United Kingdom
About the Author(s)
Anastasia Piatakhina Giré is accredited with the UK Council for Psychotherapy and European Certificate of Psychotherapy. She has practised therapy for a decade, with clients online around the world and in four languages. She now lives and works in Paris, France and is finalizing her DPsych at Middlesex University in London. She is also a faculty member of the Online Therapy Institute, London.
You may also like